Your Children's Dental Health Will Have an Impact on Their Wellbeing for Years to Come
Are you looking for a pediatric dentist in Philadelphia that your children will love?
Parents want to find a pediatric dentist who can provide quality care while making their child feel comfortable and relaxed. After all, your child's experiences at the dentist will inform their impressions for a lifetime. In addition, a good pediatric dentist will educate you and your child about proper dental hygiene in a way that is understandable and engaging.
Sometimes, it's difficult to find the right pediatric dentist for your family. Many parents hop from one dentist to another, struggling to find one they like. If you keep thinking "why is it so hard to find a good pediatric dentist near me?" — we have great news for you. Penn Dental Family Practice offers excellence in patient education and dental care at our two Philadelphia locations at Locust Walk and University City.
Why
Pediatric Dental
Care?
Many parents mistakenly view regular dental visits as an optional aspect of their child's health and development. But nothing could be further from the truth! Did you know that dental caries are the most common childhood disease in America? According to the CDC, more than 20% of American children between the ages of 5 and 11 suffer from at least one untreated cavity. Left untreated, dental decay will worsen and lead to debilitating pain. A cavity can interfere with your child's normal development, leading to difficulties when talking, playing, chewing, and learning.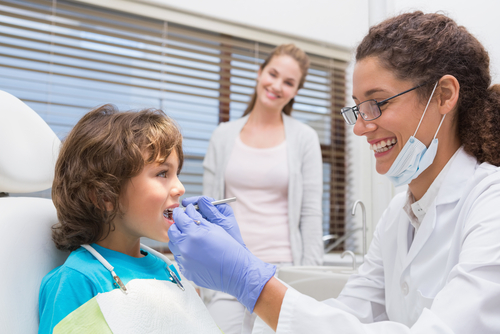 Regular dental visits are especially important because children are at higher risk for tooth decay than the rest of the population. Baby teeth are thinner and more vulnerable than adult teeth. Cavities that aren't properly managed have the potential to develop into more infections that can have long-lasting impacts. Because cavities aren't self-containing, they can only be stopped through dental intervention. But when they're caught early, childhood cavities can be managed through conservative, low-cost methods, such as remineralization.
Remineralization is a naturally-occurring process that builds the tooth enamel. When used as a treatment, remineralization can halt and even reverse tooth decay, buying time for the baby tooth to fall out naturally. Because cavities can occur easily in baby teeth, the best way to ensure that your child is treated early is by scheduling dental visits every six months. These visits allow a pediatric dentist to:
Monitor your child's delicate oral tissues

Show you proper care for baby teeth

Provide treatment in the case of an incipient condition
Convenient for the Whole Family
When you choose Penn Dental Family Practice as your dental provider, you'll enjoy access to a full complement of dentistry services. Unlike most private dental practices, we offer a wide range of specialties under one roof. Visiting the dentist is that much easier when you can go together as a family, without needing to drive to various locations. We realize that it's easy for treatment to fall by the wayside when you're referred to a specialist at another practice due to the extra planning required.
At Penn Dental Family Practice, you won't have to worry about working out the logistics of external referrals because we offer comprehensive dental services in-house. By providing services in a variety of specialties, we also deliver a better continuity of care. Your family's dental records are streamlined within a single system, making it that much easier for the dentist to follow up on the results of your last visit.
A Pediatric Dentist You Can Trust
The pediatric dentists at Penn Dental Family Practice are experienced professionals with special training to address the needs of children, including those with developmental or other challenges. We know how to work with children who have trouble staying still or who suffer from dental anxiety.
Our goal is to develop a genuine connection with each and every child patient who comes through our doors. We are committed to promoting healthy smiles by creating a child-friendly environment at our office.
Our pediatric dentists are not only consummate professionals in the field but also educators at the renowned University of Pennsylvania School of Dental Medicine. As leading researchers and practitioners in the field, they are at the forefront of best practices in pediatric dentistry. At PDFP, your child will receive care that draws on the finest approaches and techniques available in the field today.
When you choose Penn Dental Family Practice for your child's dental needs, you're joining a community. We care deeply about our patients and we're committed to supporting their oral health in any way we can. To schedule an appointment with one of our pediatric dentists in Philadelphia, please give us a call at 215-898-7337.