Most people would agree that they want their teeth to look as nice as possible. White, unblemished straight teeth go a long way in enhancing your appearance, which in turn, boosts self-confidence. And, self-confidence is one of the unspoken, critical attributes needed to succeed in your career (and social life!)
If you have dark, stained, crooked, or missing teeth, you may feel self-conscious about the look of your smile. Do you ever catch yourself avoiding the mirror or attempting to smile without letting your teeth show? Feeling self-conscious can cause you to be less outgoing and more reluctant to express yourself, detracting from your overall self-presentation––whether in social situations or in the workplace. Cosmetic dentistry procedures offer an effective, yet often low-commitment, way to improve the appearance of your smile and face!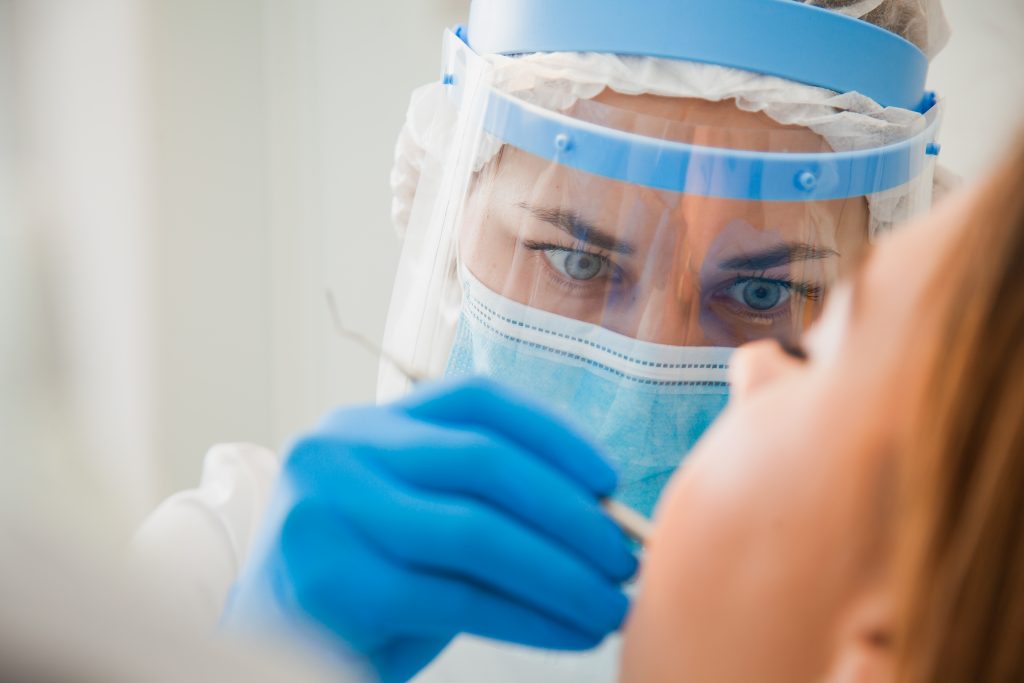 Cosmetic dentistry encompasses a wide range of treatments, ranging from very simple to enormously complex. All procedures are aimed at making your teeth look better. At Penn Dental Family, we provide cosmetic dental services that enhance both dental structure (functionality) and aesthetic value. No matter which procedure you select, you'll be amazed to see the difference that comes with our diligent attention to detail!
If you'd like to make your teeth look better, here are a few treatment options you might consider:
1. Teeth Whitening
While it's one of the more obvious ways of improving your smile, teeth whitening allows you to achieve potentially dramatic results with minimal effort. There are several ways you can whiten your teeth, but the safest, most effective option, is to receive treatment in the dentist's chair.
At Penn Dental Family Practice, we take special measures to protect your gums from irritation during the procedure, which usually lasts about an hour and a half. By removing both deep and surface-level stains, professional whitening can lighten your smile by up to eight shades.
2. Veneers
Veneers have become an increasingly popular way to attain an attractive smile. If you are looking for a comprehensive solution that will improve both the color and the shape of your teeth, veneers may be your option. They are thin shells that are custom-fitted and placed over the front of your teeth.
Most veneers require a preparation process, which involves removing half a millimeter of enamel from the surface of the teeth. Depending on your budget, you can choose the veneer type that works best for you, such as composite, porcelain, instant, and removable veneers.
3. Dental Restorations
Many people have never considered dental restorations as a type of cosmetic dentistry, but they are often used to protect tooth structure and promote a uniform appearance. For example, a crown is used to cover the top of a tooth, restoring its full shape while protecting it from damage.
Dental bonding is another treatment that can be used to repair chipped or cracked teeth, close gaps, or improve the shape of the teeth. In bonding, the dentist applies a composite resin to the teeth to repair any damages. Both these procedures are cost-effective ways of improving both functionality and appearance.
4. Dental Implants
If you have gaps in your mouth due to missing teeth, dental implants may be the best cosmetic dental treatment for you. As a permanent solution to missing teeth, dental implants allow you to chew, eat, and speak normally once the procedure is complete.
The dental implant procedure involves surgically implanting a titanium base into the jawbone, upon which the replacement "false tooth" is placed. Once the process is complete, your new tooth will blend in perfectly with your other natural teeth. If properly maintained, your dental implant should last for many years––even a lifetime!
Orthodontics
If you have crooked teeth or a misaligned bite, then the most transformative cosmetic treatment for you would likely involve orthodontics. At Penn Dental Family Practice, we offer both traditional braces and invisible braces.
Traditional braces work by applying steady pressure over time to move teeth into the desired position and straighten them. Invisible braces utilize a series of trays that have been custom-designed to gradually move your teeth into alignment. Invisible braces can be removed at will (for eating and drinking), although they should be worn for at least 22 hours a day to achieve results. Both orthodontic treatments are highly effective in improving the look of your smile!
Cosmetic Dentistry at Penn Dental Family Practice
With the help of Penn Dental Family Practice, you can look and feel your best thanks to our meticulous, quality care. Our cutting-edge technologies and techniques not only bring about greater precision but also a faster, less intrusive result. If you're curious about what types of dental interventions could work well for your smile, we encourage you to schedule a free dental consultation with us.
We'll use this time to determine what types of issues your teeth have, and provide options for recommended treatments. To schedule an appointment, please call 898-215-7337.