Meet Penn Dental Medicine's New
Dean for Intramural and Extramural Affairs
Meet Penn Dental Family Practice's recently appointed Assistant Dean for Intramural and Extramural Affairs, Dr. Todd Singer. Dr. Singer has been leading operations for Penn Dental Family Practice, as well as several initiatives at the University of Pennsylvania School of Dental Medicine since May 2019.
Not only does Dr. Singer come to PDFP with an impressive resume as a Philadelphia periodontist specializing in periodontal disease and dental implant reconstruction, but his love for what he does is quite clear and commendable.
For Dr. Singer, his best moments as a dentist come from completing large rehabilitative cases — the kind where patients avoid smiling and even eating due to dental issues. After fitting a complete prosthesis over a twelve-month period, Dr. Singer has had the privilege of seeing patients' joy and appreciation at the way the procedure has changed their lives.
Join us as we learn more about this dynamic, skilled, passionate periodontist, father of two young children, and avid dog-rescuer.
1. Can you share a little about your background – Where you grew up? Where did you go to school?
I grew up in very humbling circumstances. I put myself through college, dental school, and postgraduate surgical training. I attended SUNY (State University of New York) for my undergraduate and SUNY Stony Brook for dental school. I completed my post-graduate from the University of Maryland. To pay for school, I worked two to three part-time jobs at any given time. In fact, during my residency, I worked every night and weekend at different practices.
I spent the last 20 years, prior to joining Penn, developing a very large multi-location, multi-specialty group in New Jersey where we placed and restored thousands of dental implants. At the same time, I've been fortunate to maintain teaching appointments at New York University and the University of Maryland Dental Schools.
2. Did you always know that you wanted to be in the dental profession?
Yes, strangely enough! For as long as I could remember, I'd always wanted to be a dentist. When I was a kid, I remember reading my mother's nursing books and being fascinated by anatomy. I was also a very fidgety child who was always building models and taking them apart. The opportunity to do surgery and work with my hands while helping people at the same time is really one of the greatest experiences in the world.
3. What in particular motivated you to choose the specialty of periodontics?
Going through dental school and pursuing the specialty of periodontics is really a combination of biology and engineering. Adding implant dentistry and the ability to design and engineer cases brought everything back from my childhood full-circle.
4. How has periodontics and implant dentistry changed since you started your career?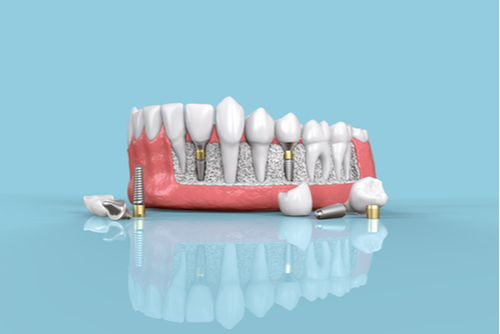 Periodontics and implant dentistry has changed drastically in the past 20 years. When I first started, the link between our systemic health and our periodontal health was early on in its discussion and went through a whole lot of research and trials to prove the point that our mouth is related to our systemic health.
Dental implants and materials have gone through an incredible evolution. The stability and success of dental implants have opened many new doors for patients in terms of being able to offer long-term solutions with great functionality. Now, our ability to combine multiple procedures successfully is wonderful for our patients. We've reached the point where — God forbid you have a problem with a front tooth — there are circumstances where we can remove that tooth, place an implant, and then place a crown in the same visit.
What has really become tremendous in terms of a clinical advantage is the ability to take those same concepts in full-mouth reconstructions, and no matter how extensive your dental needs are, make it possible to treat your oral health and place implants and temporary fixed dentures at the same time. The smiles that we create and the return to the function that we can offer are incredibly rewarding because it's life-changing for our patients.
5. What are some of the aspects of periodontics you truly enjoy, versus areas that may be challenging?
I've been very fortunate to have the opportunity to balance teaching and be able to place thousands upon thousands of dental implants. My practice now really focuses on complex dental implant therapy and comprehensive full mouth reconstruction. I've also had tremendous success with bone and soft tissue grafting.
I have a basic philosophy: simply because I know how to perform a service, or it's right for one person, does not mean it's right for everyone. It's about what each patient's wants and needs are (even if often these can be the most challenging cases). If we plan cases properly, we can help our patients in ways they've never been helped before.
6. What made you choose Penn?
I think we chose each other. Penn Dental is a truly amazing institution. The faculty here are world-class and renowned for their skills and research. As a school and institution, Penn also drives innovation from our faculty to our students becoming the leaders of the future and to work together in a collaborative way.
7. What initiatives do you plan to establish in your role, specifically in regard to the ideal patient experience?
The faculty practice has been around for a very long time — it's integral to the dental school as a whole. Our main initiatives involve a doubling down of our commitment to our patients. And we don't just bring world-class clinical care, but also world-class customer experience. This means constantly adapting to accommodate our patients' wants and needs, making the experience as comfortable and stress-free as possible.
From a clinical perspective, we are looking to add a center for complex dental and implant rehabilitation. This enables people to know there is a definitive source for Philadelphia-based patients to receive local complex dental and rehabilitation services.
In closing, Dr. Singer encourages you to come in for a consultation, so that not only can you get to know the doctors at Penn Dental Family Practice, but so they can also get to know you! Our top-priority at PDFP is to establish lasting relationships based on excellent care and quality dental services.
If you've been searching for a periodontist in Philadelphia and would like to schedule an appointment with a PDFP dentist, please give us a call at 215-898-7337.