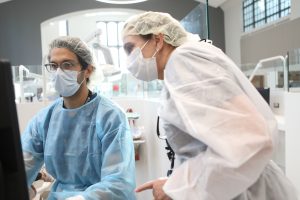 Are you looking for a family dentist you can trust? Penn Dental Family Practice (PDFP) has a reputation for excellence—from the care we deliver to our patients, to the leadership we provide in the field of dentistry. In the midst of the coronavirus pandemic, Penn Dental has taken extraordinary measures to ensure patient safety and wellness at our offices. Through our thought leadership in pandemic safety, we've stood at the forefront of dental best practice as we continue caring for patients.
There are several key factors that distinguish PDFP as a superior Philadelphia family dentist:
1. High-Quality Providers.
Above all else, the caliber of our dentists is what sets us apart. Each member of our team is skilled in the most advanced clinical techniques. Many of our dentists teach the next generation of dental professionals at the University of Pennsylvania School of Dental Medicine or serve at the prestigious Children's Hospital of Philadelphia. Our longstanding reputation in the Philadelphia area arises from our consistent standard of excellence over the decades.
2. Dentistry for Every Age.
Families want a dentist office that can meet their needs at every stage of life, from childhood to old age. PDFP takes that responsibility seriously, providing age-specific care from pediatric dentistry up to the golden years. People face different risks and challenges depending on their age. For example, older adults may have a higher risk for tooth loss, while children should be carefully monitored for cavities. Our strong knowledge base and continuing professional development allow us to deliver targeted care to all our patients.
3. Comprehensive Care.
Comprehensive care means that you can receive all the dental services you need at just one location. If you've ever been referred to a specialist in the past, you know that coordinating information between health care providers can be time-consuming. At PDFP, we offer a range of specialties all under one roof. Should you require specialty care beyond your routine dental cleaning, we can treat those needs here––which brings the additional advantage of close communication between your dentists.
We offer the following specialties at both our Locust Walk and University City locations:
4. State-of-the-Art Technologies.
As a family practice, PDFP enjoys access to state-of-the-art resources and dental technologies. Our wide selection of advanced tools includes the revolutionary iTero scanner, which utilizes three-dimensional models with algorithms that improve the accuracy of imaging. In addition, computer-aided manufacturing and design give us the ability to create customized orthodontic treatments and restorations in-house at our laboratory. These technologies accelerate our treatment times while enhancing the precision of dental interventions.
5. A Safe Environment for All.
Since the start of the pandemic, PDFP has worked diligently to ensure the safety of every patient and staff member who walks through our doors. We are continually updating our practices in accordance with guidelines from the Centers for Disease Control Prevention and the American Dental Association. Early on, we set an example to other dental practices by implementing measures that are now considered standard procedure across the country: pre-screening, frequent sanitation of surfaces, spaced-out appointments, temperature checks, and the use of PPE by staff.
In addition, our offices feature enhanced air filtration and deep cleaning, which we implemented soon after the shutdowns in order to secure the safety of our spaces. In combination with our stringent infection control and sterilization practices, these protocols give patients the peace of mind that they're safer at the dentist's office than they would be in most other public or commercial places.
A
Family Dentist
Practice Committed to Excellence
For years, Penn Dental Family Practice has been providing attentive, high-quality care to individuals and families in the Philadelphia area. With a broad range of specialties and access to the best dental technologies, we are equipped to treat any dental condition. Drawing on evidence-based techniques and research, we strive for the best outcomes for each and every one of our patients.
To schedule an appointment, please call 215-898-7337 or fill out an appointment form to be contacted by one of our friendly staff members.
Would you like to learn more about what makes us different from other dentists in the area? We want to give you the information you need to make the decision about who to trust with your family's oral health care. Download this free chart to learn more about our unique approach to family dentistry.