Do you wonder if you need dentures, and if so, where to find them in Philadelphia? The dentists at Penn Dental Family Practice (PDFP) explain the situations when dentures are recommended, what type of dentist does dentures, and where to find affordable dentures.
Affordable Dentures Can Make All the Difference to Your Smile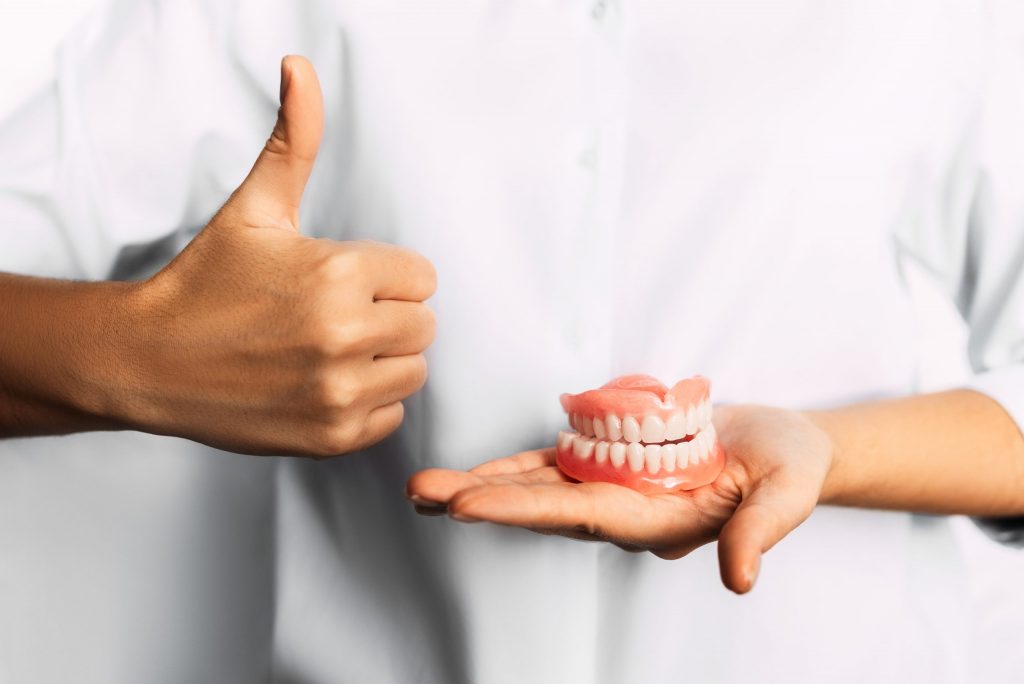 Dentures are a removable artificial tooth-replacement option that can improve the appearance of a person's smile and their ability to chew and speak.
Dentures are typically made from a combination of acrylic, metal, and other materials that are designed to mimic the look and feel of natural teeth. Some dentures may also include porcelain or ceramic pieces to help improve the appearance. They are usually attached to a metal framework that provides stability and support for the denture.
Dentures come in full and partial sets that rely on your gums and underlying bone for support, although partial sets may need clasps to fit around natural teeth. They can also come as implant-supported devices that secure artificial teeth to the jawbone with screws or posts.
What Are the Signs You Need Dentures?
Some signs that you may need dentures include:
Missing teeth: Whether the result of tooth decay, gum disease, or injury, dentures can be used to replace missing teeth and restore functionality.
Loose or shifting teeth: If your existing teeth have become loose due to gum problems or other issues, dentures may be a good solution for stabilizing them.
Difficulty chewing food: If you are having trouble eating because of missing teeth or shifting teeth, dentures can help restore normal eating function.
Difficulty speaking clearly: If you have difficulty forming words because of missing or loose teeth, dentures can improve your ability to speak clearly.
Depending on the severity of tooth loss or decay, dentures may be recommended for both cosmetic and practical reasons.
What Type of Dentist Should You See?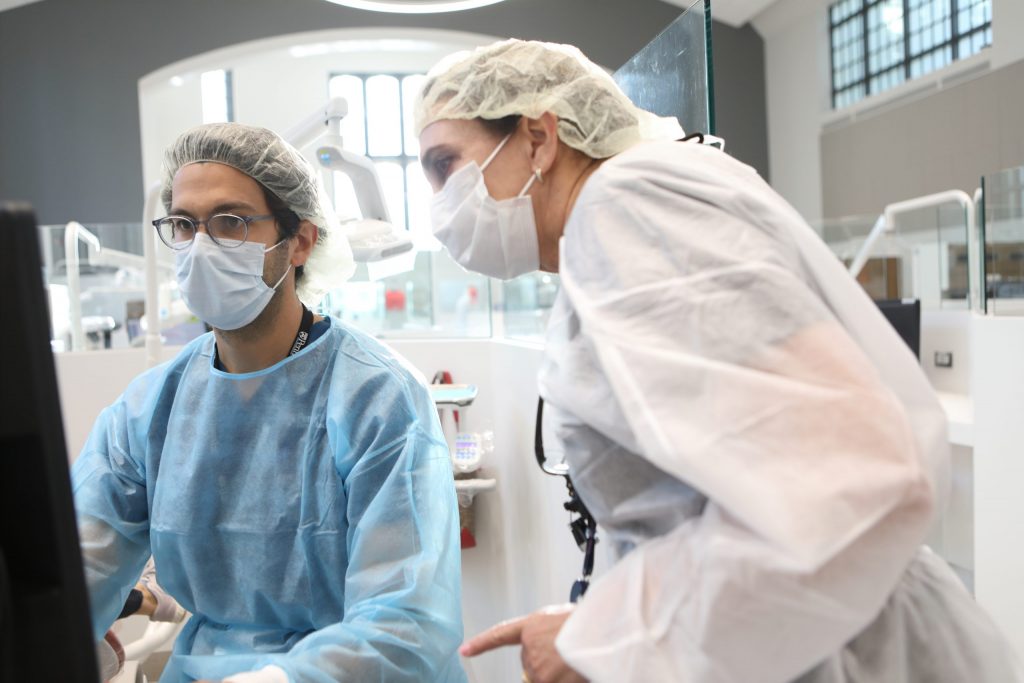 If you think you need dentures, your first visit should be to your general dentist. Your general dentist at PDFP in Philadelphia will clean and examine your teeth and learn about your symptoms to verify your concerns. They can treat issues such as tooth decay and fill cavities, provide crowns or bridges, and sometimes recommend dentures. If needed, they can provide a referral and coordinate care with a dental specialist for your dentures or any other problems that may be seen, such as a periodontist for gum (or periodontal) disease or an endodontist for root canal treatments.
The denture specialist you may be referred to is called a prosthodontist. Prosthodontists are dentists specializing in dentures who received specialized training after completing general dentistry school to ensure optimal care for patients with missing or severely damaged teeth. Whether your condition is the result of congenital defects or the result of trauma or neglect, a prosthodontist will get you back to a functional, beautiful smile.
How Long Do Dentures Last?
Dentures can last anywhere from five to 10 years with proper care and maintenance. However, they will eventually need to be replaced or refitted because your mouth changes over time, causing the fit of the dentures to become loose. Taking good care of your dentures will help them last longer and stay in better condition. That means brushing them regularly and soaking them overnight in a denture cleaner.
How Much Do Dentures Cost?
The cost of dentures will depend on the type of appliance you need and the materials used to make them. Full dentures are generally more expensive than partial dentures and implant-supported devices. The average cost for partial dentures is about $1,500, while the cost of a full set could range from $3,000 to $8,000.
Where Can I Find Affordable Dentures in Philadelphia?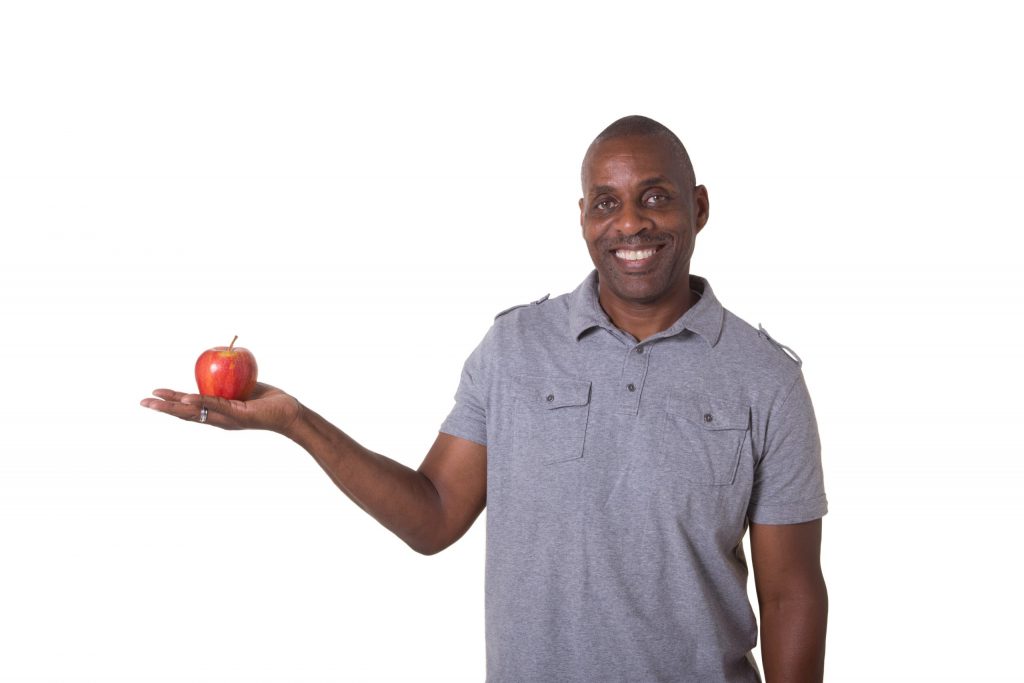 At PDFP, you benefit from a team of experts who not only teach the next generation of dentists but also practice using the leading techniques in patient care. Penn Dental includes practitioners who also serve at Children's Hospital of Philadelphia and the Hospitals of the University of Pennsylvania—a team of outstanding oral health professionals who provide multispecialty care beyond your expectations.
Our philosophy at PDFP is that financial considerations should not be an obstacle to obtaining dental care. We are always available to answer your questions or assist you in any way we can. We have a financial coordinator on staff to help patients understand their financing options and find a plan that works for them.
Also, part of the cost of your dentures may be covered by dental insurance. At PDFP, we accept most dental plans. You can work with our administrative staff to see how your coverage syncs up with our services.
How Do I Make an Appointment With a PDFP General Dentist?
It's easy. Just call 215-898-PDFP (7337) or complete this form. Our general dentists at either of our Philadelphia locations will provide your care or coordinate it with the other specialists in our practice as needed. Either way, you can trust that your smile (and oral health) are receiving the latest dental care from the region's best dentists and getting the respectful patient care you deserve.