The mouth and jaw are hugely important and complicated parts of your anatomy. Conditions affecting oral health can interfere with eating, speaking, and even general health. This can manifest in issues as diverse as allergic reactions (angioedema) and migraines.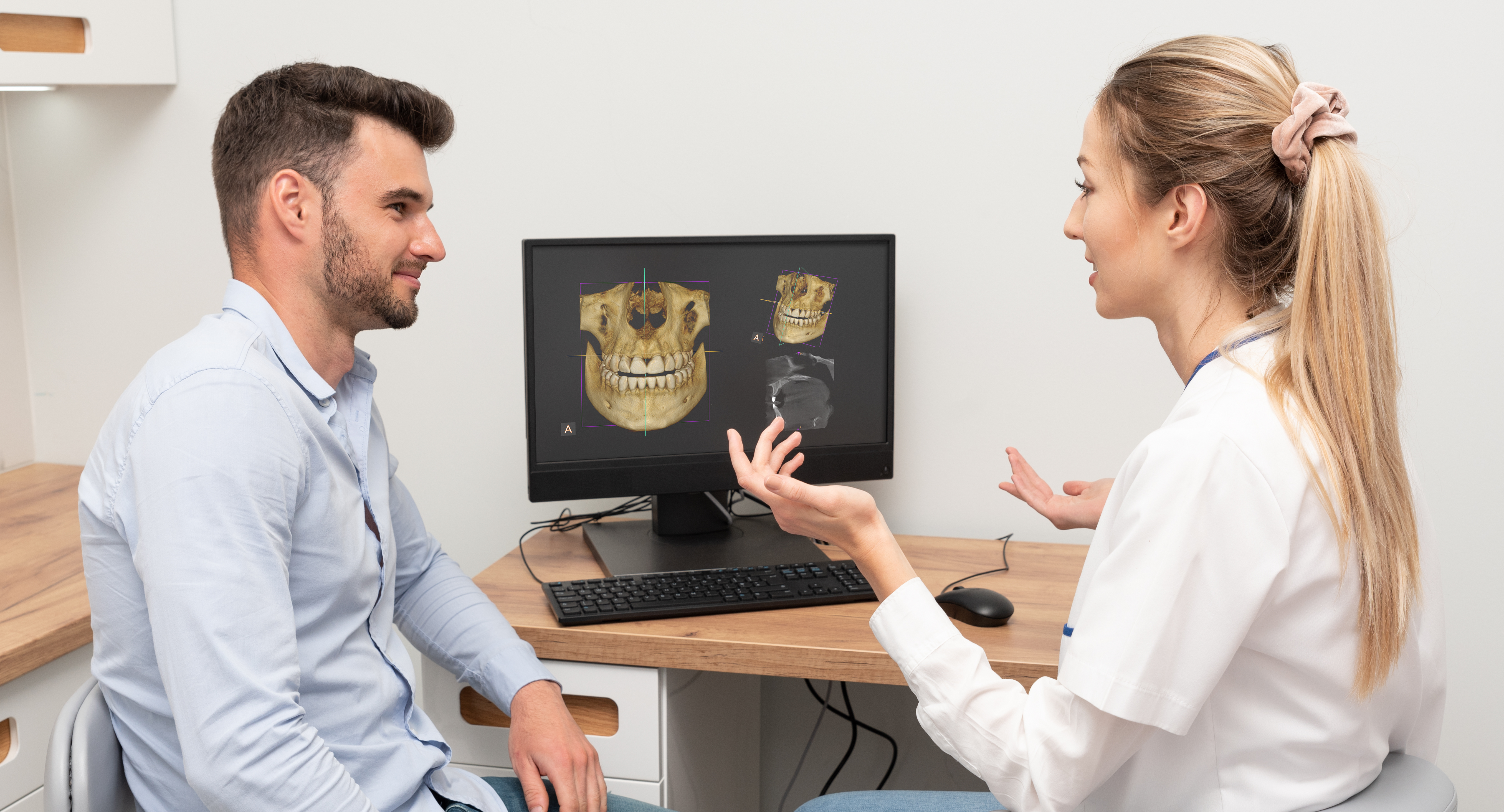 As a result, there are a wide array of medical specialties concerned with ensuring good oral and maxillofacial (relating to the jaw and face) health. When a patient is dealing with pain and inflammation from an unknown cause, they should schedule an appointment with an oral medicine specialist.
Read on to discover why specialized oral health care is so important, when you should seek it out, and where to find the best dentists for oral health in Pennsylvania.
What is an
Oral Medicine Specialist?
There are dozens of potential afflictions of the mouth and surrounding structures. Causes range from systemic issues like cancer to bacterial or fungal infections to side effects from prescription drugs. Oral medicine specialists are trained dentists who complete 2-3 years of additional education to diagnose and manage the diseases, disorders, and pathologies affecting the orofacial region (mouth, jaw, and face).
The oral health care these specialists provide covers clinical diagnosis and non-surgical management of everything not directly related to the teeth. This puts them at the crossroads of dentistry and medicine, where their expanded knowledge allows them to take an interdisciplinary approach to treat diseases affecting the orofacial region. Think of an oral medicine specialist as a 'physician of the mouth'.
Oral medicine specialists have several core functions: Diagnostic, non-surgical treatment, and minor surgical treatment.
Diagnostics

include ordering biopsies, blood panels, or imaging tests, depending on your symptoms.

Non-surgical treatment

includes prescribing topical and oral medications or therapeutic injections.

Minor surgical procedures and excisions

are performed to relieve pressure and remove dangerous growths. They also may assist in the operating room during more invasive procedures.
Still, even with all that information, it might be challenging to determine when you should see a specialist. You might not even know where to find one. Penn Dental Family Practice is here to help.
When is it Time to See an
Oral Medicine Specialist?
Patients often spend too long attempting to solve oral pain issues on their own. The average patient visits multiple doctors over nearly 18 months to get a diagnosis. The right time to see an oral medicine specialist is as soon as you realize you have a medical problem. If you have been unable to find relief for pain and discomfort in the jaw, teeth, face, or mouth, an oral medicine specialist can help. In many cases, identifying and treating symptoms early means far better outcomes for you and your loved ones.
If you have been experiencing mouth and jaw pain, dry mouth, or abnormal growths in the mouth, chances are you should look for an oral medicine specialist near you. They will have the training to pinpoint the source of your symptoms and select the appropriate treatment methods.
For growths or lesions in the mouth, seeing an oral care specialist can be especially important. These conditions may develop into cancers if not addressed promptly. Oral health care can mean a lifesaving intervention and follow-up that other dentists or care providers may not be able to provide. And, for medically-compromised cancer patients undergoing chemo or radiation therapy, specialists can help manage the potential side effects of treatment, such as mucositis or osteonecrosis.
Finally, medically vulnerable individuals such as older adults or those about to undergo invasive surgery (such as open-heart surgery) should see an oral medicine specialist for a risk assessment. Based on individual risk, they'll make recommendations that take a proactive approach to preserve oral health. In a larger sense, a specialist acts as an extension of your interdisciplinary medical team and will help you make the best decisions in any situation.
How Do I Find an
Oral Medicine Specialist?
If you have been dealing with persistent pain, you may be referred to an oral medicine specialist by a primary care provider. However, oral medicine as an independent branch of oral care is still a relatively new field, and your PCP may not be familiar either with providers in your area or your insurance network. For this reason, it can be highly beneficial to call a local provider such as Penn Dental Family Practice directly.
Our doctors are some of the best in the field and, regardless of whether you have insurance, PDFP works with you to ensure you and your family have access to quality dental care at an affordable price. Don't wait to get the oral health care you need.
Make an appointment with a Penn Dental Family Practice specialist today or call us any time at 215-898-PDFP (7337).