You have heard Invisalign is great – but what proves it?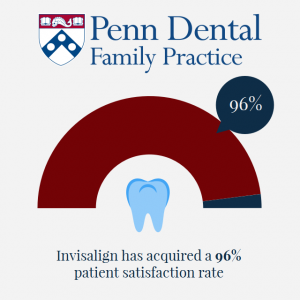 So what do you look for when deciding on choosing to make a decision that can impact the rest of your life? Research, research, research. Finding legitimate research can be hard to come by on the world wide web, but fortunately we have compiled together Invisalign Results that really matter.
If you are new to Invisalign, then keep on reading! There are some very exciting advances in this technology. Invisalign comes in multiple sets of clear BPA free aligners. These aligners are worn anywhere between 6 to 24 months. These miracle aligners have become more popular over the years – especially among the adult community.
So, what are the facts?
The Invisalign Results Are In…
They Straighten Your Teeth
We know; that's a given. But, did you know that only 35% of adults have well-aligned front teeth? That means that 65% are in need of braces. We all know that traditional braces can get you there, but as an adult, wearing clear, invisible aligners can be an incentive. Invisalign results have born out in the fact that that Invisalign itself has a 96% patient satisfaction rate!
It Isn't Always More Expensive
Though Invisalign is more appealing due to the lack of metal in the mouth and the ease of use, that doesn't necessarily mean that it will be more expensive than traditional braces. Invisalign cost is surprisingly very similar to traditional braces. You can get more information on fees by calling 215-898-PDFP (7337).
Age Isn't An Issue
1 in 5 orthodontic patients are over the age of 18, making Invisalign a great alternative to traditional braces. Invisalign's clear aligners keep your smile flawless, giving a great first impression every time.
You Get The Top 1% of Invisalign Providers In the Country
That's right! Did you know that out of 55,000 dentists, our very own Dr. Mastaj is an Invisalign Elite Provider? Or visit any one of our many other Invisalign Premier Providers. We make sure that your Invisalign treatment fits into your busy life and schedule.
Here at Penn Dental Family Practice, we have all the resources you need in making the right decisions that will last a lifetime. Get more information with our free infographic flyer. You will learn about the treatment process, why Invisalign is better than traditional braces, and the problems Invisalign can fix.
We look forward to hearing from you, and please take advantage of our free Invisalign consult. You can also check out an Invisalign results blog, here.
Related Tags: Invisalign Results | Invisalign