Don't miss out on your dream job because of that imperfect smile.
With nearly 2 million new college graduates stepping into the workforce, it's important that young professionals make a good first impression. Would you believe that your smile might have an effect on your career? According to a survey conducted for the American Academy of Cosmetic Dentistry, 74% of people believe that their smile can affect their career success.
The survey asked the participants to identify the first thing they notice in a person's smile. The first thing that people notice about a person's smile is how straight their teeth are, followed by color of teeth, cleanliness, the sincerity of their smile, and whether they have missing teeth.
If you're a college graduate about to embark on your new career, and you want to make a great first impression, then Invisalign might be the answer for the upgrade you're looking for! You never know how your Invisalign results could help you make a favorable impression and land that perfect job!
How to get the best Invisalign Results
The beauty behind Invisalign is you don't have to wait until the end of the process to start seeing your Invisalign results.
Invisalign aligners are clear aligners, providing the convenience of orthodontic care without the embarrassing appearance of metal braces. Invisalign aligners are good for all ages, and especially for young professionals trying to make that great first impression on their interviews.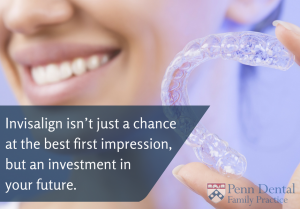 One of the perks of having Invisalign instead of braces is you can eat whatever you want without worrying about food getting caught in your braces. You just remove your Invisalign aligners before you eat or drink anything, brush your teeth, and place them back on once you're done.
Another added benefit of Invisalign is that the process doesn't take as long as traditional braces. It can take as little as 6 months or as long as 18 months, but it's still takes less time than with conventional braces. Plus, your aligners can double as whitening trays. Not only will you be straightening your teeth, but you can whiten them as an added bonus!
Invisalign requires fewer visits to your orthodontist so it won't cut into your time doing job searching and interviews. Every 2 weeks you'll change out your old aligners for new ones, bringing you one step closer to that perfect smile. For the best Invisalign results, you should wear your aligner for at least 20 to 22 hours a day.
Invisalign isn't just a chance at the best first impression, but an investment in your future. For more information contact Penn Dental Family Practice today for your complimentary invisalign consultation!