We can give you the inside scoop on dental insurance and how to save money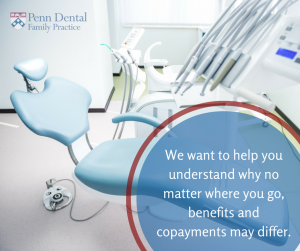 When it comes to finding a dentist that takes your insurance – it can be a struggle understanding the benefits you'll receive with specific dental offices, as no two will be the same. Here at Penn Dental Family Practice we strive to bring you accurate estimations of what your dental insurance will pay.
What if you were told that your insurance pays 100% of your dental bills – but ended up with a bill? We want to help you understand why no matter where you go, benefits and co-payments may differ. With that, this will help answer your question "how can I find a dentist that takes my insurance?"
Discover The Difference Between PPO and HMO
If you have a PPO insurance, you have the freedom to go to any dental office you'd like and your insurance will reimburse the office, leaving you with a portion to pay (or sometimes none at all). PPO stands for Preferred Provider Organization.
If you have an HMO insurance, you must go to the office that your dental insurance assigns you to. If you're not satisfied with that office you give them a call and will be assigned to a different office. HMO stands for Health Maintenance Organization.
When you are utilizing a PPO insurance, you can call your insurance company and ask them, "Please find a dentist that takes my insurance." They can give you a list of dentists in your area that are contracted with your insurance.
The difference between a contracted dentist and a non-contracted dentist are simple to understand, yet is often misunderstood.
When you have dental insurance benefits that cover 100% of your cleanings and exams – going to a dentist that is contracted with your insurance means that you will not have a copay for these services (unless a deductible is applied).
In the same scenario, but going to a non-contracted dentist – you may end up with a co-payment. This co-payment can vary depending upon the fees of that office. If the cleanings in that office are more expensive than what your insurance will cover, you pay the difference. This is why some people have co-payments, even if their insurance covers 100%.
If you have an HMO insurance plan, they will provide you with your dental office and a list of fees you pay up front. Insurance plans vary, so please contact your insurance provider for more information on HMO plans.
How Can I Find a Dentist That I Can Trust?
Penn Dental Family Practice is proud to provide the highest quality of care. Many of our staff currently serve as professors at University of Pennsylvania. So, you can be confident you will be treated with the the latest, creative techniques and innovative technology.
For more information on how Penn Dental Family Practice can become your dentist you can trust, give us a call at 215-898-PDFP or request an appointment online. You no longer need to ask the internet to find dentists in my area, because you have already found everything you need. We look forward to serving you and your family with our array of specialties.
Related Tags: Dentist That Takes My Insurance | Find a Dentist