Just because a dentist is great for someone else doesn't mean they're great for you.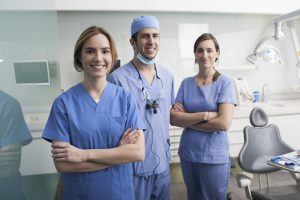 Have you recently moved to a new area? Perhaps you've had a bad experience with your current dentist and your looking for a better fit? Whatever the reason is, it's important to look at local dentists with a keen eye.
Between 5% and 8% of people completely avoid the dentist out of fear, and 20% of people avoid the dentist unless it's absolutely necessary that they be seen. Sometimes when we're looking online through local dentists, local popular dentists and so on, we may not always make the best decision to benefit our own distinct personalities.
Just because your friend or family member absolutely insists that you see their dentist does not always mean that you will like them.
So what can we do to be sure that you find a local dentist that will make you feel comfortable and want to keep coming back? Check out these tips.
How To Find Local Dentists Designed For You
First off, it's important that you do your research, look at reviews on Yelp! Google and more. What do others say about them? Do they have more positive than negative feedback?
Secondly, when you narrow down your results, check out their dental office websites. One of the traits of a good dentist is the information that they offer their patients through their website.
Do they thoroughly explain their mission and values?
Are there pictures posted of the doctor, staff and office?
How many resources do they offer online?
Do they make it easy for you to contact them?
How does their overall website make you feel?
If you're satisfied with what you've seen on their website, but still hesitant to make a commitment–it's okay.
Third, call them and schedule a consultation to come in, meet the dentist and staff and explore the office! You will find that a trustworthy dentist is a dentist with nothing to hide. If they do not seem welcoming over the telephone, or insist that you must have an exam and do something you are not comfortable with–this may not be the office for you.
Lastly, if you are comfortable with this dentist, get your exam and cleaning scheduled and begin your journey with your new local dentist. Remember, there's someone out there for everybody–so don't get discouraged.
What If I Found A Great Dentist, But I'm Still Scared?
Having a fear of dentists is nothing to be looked over. If you've found a dentist you feel is the right fit, but you're still apprehensive thanks to your past experiences, be sure to communicate this with your new dentist. He or she may change their approach in a compassionate, careful nature. You may notice:
Your dentist will carefully explain a procedure, what you will feel, and for how long
Your dentist will ask frequently if you're okay and if they have permission to continue
They give you an opportunity to stop during any procedure if you begin to feel scared or have anxiety. For example, your dentist may say 'If you need to stop, please raise your left hand'
Your dentist will make time for breaks as requested
Have you found your perfect dentist? Penn Dental Family Practice has over 35 dentists under one roof! Check out our Dentist Directory, and request an appointment for a consultation with the dentist of your choice.
Call us at (215)898-PDFP today!