Why Should You Celebrate Your Dentist? We've Got Plenty of Reasons!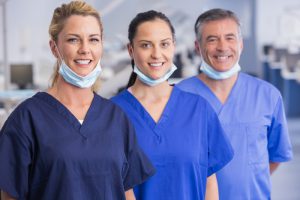 March 6th is National Dentist's Day. This unusual holiday was established to demonstrate our gratitude and say thank you to dentists everywhere.  While the majority of adults would rather do just about anything else other than going to the dentist, without those appointments, we would all have terrible oral hygiene!  That's why we've created a handy list of the best ways to show you care about your dentist on National Dentist's Day.
Impress your dentist on your next visit, and show them that you've improved your dental care regimen by brushing and flossing twice a day, every day.  Make sure you've got the correct toothbrush and brush your teeth for a full two minutes each and every time.
Smile more.  Show off those pearly whites and great dental work.  And hey, it's even good for your health!  Did you know that smiling helps to strengthen your immune system? That's because smiling helps your body produce white blood cells that fight illnesses.
Encourage reluctant friends and family to go to the dentist regularly.  According to the American Dental Association, approximately 9.9% of American adults don't plan on going to the dentist this year and anxiety about dental visits is one of their top concerns. Your encouragement could make a real difference for loved ones struggling with this fear.
Educate your children on the importance of excellent oral hygiene.  Make toothbrushing fun by using a colorful toothbrush and teaching them a brushing-your-teeth song.
Why You Should Care About National Dentist's Day
National Dentist's Day offers everyone an opportunity to acknowledge their dentist's hard work.  Penn Dental Family Practice has created the top 4 reasons why you should appreciate your dentist on National Dentist's Day on March 6th.
Preventive dental care.  Preventive care includes cleaning and checking your teeth for cavities, checking the soft tissue and screening for oral cancer and other potential problems.  People with severe gum disease may be susceptible to developing coronary artery disease, so it's actually not far from the truth to say that your dentist could save your life!
Pediatric dental care.  Pediatric dentists have undergone additional training to specialize in oral health care for children and are committed to helping them establish proper oral hygiene habits and developing a good relationship with their dentist.
Alleviating dental pain.  Dentists are not only skilled at relieving mouth and tooth pain, but they also work to prevent pain during treatment as well.
Teeth whitening.  Our dentists can help you get brighter teeth through the oxidation process, and this treatment only takes one hour!
At Penn Dental Family Practice, we have over 35 doctors and specialize in all areas of dentistry.  You benefit from our team of experts who not only teach the next generation of dentists, but practice using the leading techniques in patient care.  If you are interested in learning more or want to schedule an appointment, please contact us today at 215-898-7337.
Related Tags: National Dentist's Day | Why National Dentist's Day is Important