Find out if brightening your smile is right for you!
How often have you wanted to brighten your smile? Now how often have you thought about the safety risks when it comes to giving your smile a boost?  There are many ways you can whiten your smile, from over-the-the counter kits to natural at-home tooth whitening solutions and in-office teeth whitening treatments with your dentist. Overall, teeth whitening is safe, but one size does not fit all. Before you decide to embark on the best tooth whitening solution for your smile, consider these safety tips.
Consider This Before Brightening Your Smile
With the boom of tooth whitening products, everyone is happily standing in line to purchase the next do-it-yourself kits, but before you rush to the store, take these suggestions into consideration.
See Your Dentist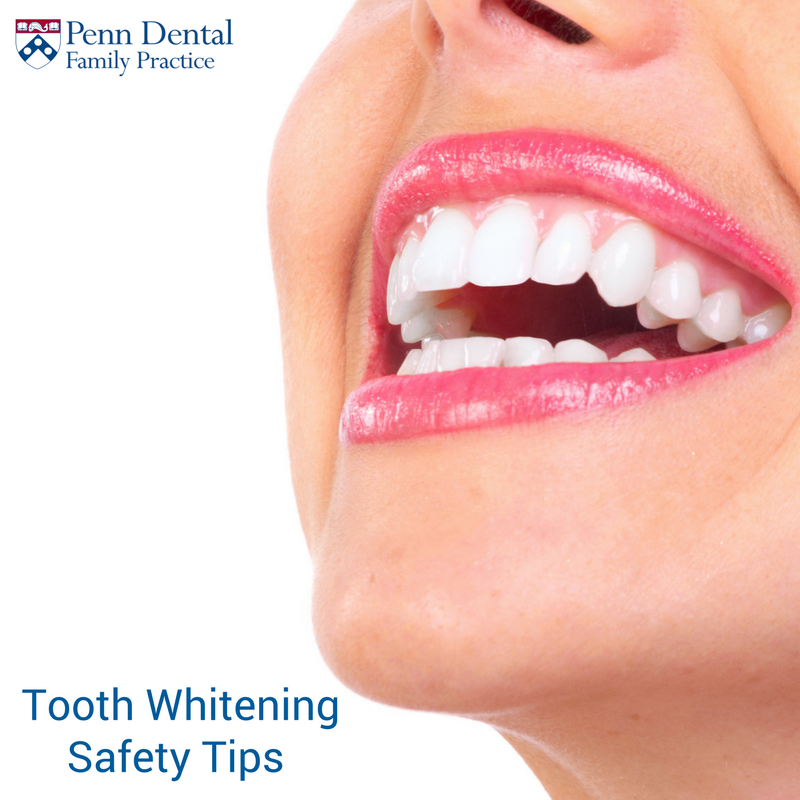 Maybe the only thing required to brighten your smile is a check-up and a cleaning. If you're still considering an at-home teeth whitening treatment after your visit, ask your dentist which one they recommend. Or consider the safe and effective treatments that your dentist's office provides.
Pay Attention To Bleaching Agent Strength
The main bleaching agent in most at-home whitening kits is about 10-20% carbamide peroxide. If you're not sure of the amount of carbamide peroxide you should use to whiten your teeth, consider a tooth whitening kit with a percentage somewhere in the middle. Be aware that while these at-home kits are predominantly safe, there may be side effects.  Some of these side effects include tooth sensitivity and irritation to the gums. These side effects tend to subside once treatment has ended.   
Read and Follow Directions
While at-home whitening kits may seem pretty self-explanatory, it's still IMPORTANT to thoroughly read and follow the directions. Be sure to take note of the amount of time the bleaching agent should remain on, and properly wash or brush it off at the allotted amount of time. Leaving the gel or whitening strip on too long can cause gum irritation. Set your timer!
Know Who Shouldn't Whiten
Is there ever a time you shouldn't try to brighten your smile? Anyone with dental crowns or bondings should note that these won't lighten during a bleaching session. If you still continue with a whitening treatment, be aware that some of your teeth will not have the same shade of white.
We know that pregnant and nursing moms want to brighten their smile, but it's advised that they delay any whitening treatment. Without concrete evidence of how the bleaching agent can affect a fetus in utero or baby while nursing it's best to avoid until safe to do so.
Call Penn Dental Family Practice To Professional Bright Your Smile
If you're wanting a faster, more effective way to whiten your smile, then consider an in-office whitening treatment at Penn Dental Family Practice. Contact us today!