Advice for promoting oral health in children
To ensure the best possible future for your child, pediatric dental care should be a key part of your family's health strategy. In this blog, we explore the role that pediatric dental care should play in the your family's life.
Your Child's First Dental Appointment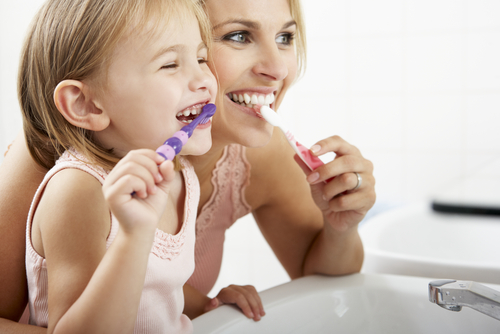 According to the ADA, a child's first dental appointment should take place within 6 months of their first tooth coming in, and no later than a year after. Some parents wonder why it's important to take care of a child's baby teeth since they're only going to fall out.
The truth is that dental decay in primary teeth increases the risk of decay in permanent teeth. When decay is present in baby teeth, bacteria is introduced to the permanent teeth that grow in around them. Additionally, extractions can be traumatic, making it harder for children to go to the dentist in the future.
At your child's first dental appointment, the dentist will check their oral development to establish a baseline for future visits. It is also an important educational moment for your child, because they will learn to feel comfortable with the dentist!
Scheduling Annual Appointments
During your child's early years, we recommend scheduling appointments in the morning when they are most alert. A dental visit should be viewed as a vital learning experience, as well as an important check-up that will help decrease their risk of cavities in the future. Don't let the busyness of life get in the way of your child's pediatric dental care visits.
Preventive Tips to Promote Pediatric Oral Health at Home
When it comes to dental care, cleanliness is key to good health. However, it can feel difficult to ensure that your child's teeth stay clean all the time. Annual cleanings at the dentist will help you and your child stay ahead of the game.
Here are a few other tips for promoting good oral health:
DON'T

let your child walk around drinking juice out of a sippy cup. Although many parents consider fruit juice to be healthy, the sugar and acidity eat at tooth enamel. The only drinks that dentists fully recommend are milk and water.

DO

encourage your children to eat vegetables and other fibrous foods. Dietary fiber has been found to fight tooth decay and gum disease!

DON'T

allow your child to over indulge with sweets. Candy is the top culprit for introducing sugars into your child's mouth. Sugars invite bacteria! Put strict limits on your child's candy intake, even on holidays. If you do this consistently, their bodies will naturally adapt to having less sugar, which will diminish future cravings. Encourage friends and family to help you follow these boundaries for your child by incorporating other fun, non-sweet treats into special times.

DO

promote

flossing

and brushing. We recommend using dental flossers, which can be a bit easier for kids to handle than traditional floss. Just be sure to remove the white/yellow substance from the floss after each insertion, since that's the buildup you're trying to remove!
How Do I Find a Pediatric Dentist?
A pediatric dentist should be both highly qualified and good at working with children. Penn Dental Family Practice offers a full range of family dental services, including our caring staff of pediatric dentists. We are a top children's choice for pediatric dental care in the Philadelphia area. We love our child patients and do everything we can to protect their teeth and secure a carefree dental future!
To make your child's appointment at our office, please call our friendly staff at 215-898-7337.
You can learn more about pediatric dental care at the American Academy of Pediatric Dentistry website.