Discover the Benefits of Pediatric Dentistry
Have you considered visiting a pediatric dentist for your child's dentistry needs? You may have a child with special dental needs, or you may just want to ensure that your child grows up with a healthy smile and a great relationship with their dentist. If so, finding a dentist who is specifically focused on childhood oral care can make a huge difference!
Here, we'll go over what a pediatric dentist is and what special attention and guidance they can offer you and your family.
Child Dentistry Is Specialized Expert Care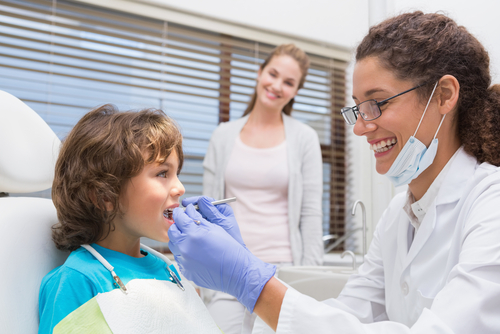 To begin, we must define pediatric dentistry. A pediatric dentist is a dentist focused on oral care for young patients from infancy through their adolescent years. They follow a comprehensive approach since every child has individual needs and requires special guidance. Pediatric dentists not only perform whatever dental treatments are needed but also advise both children and parents on healthy habits.
You may be wondering what the difference is between a dentist focused on child care and a family dentist. Pediatric dentists are specially trained and certified. They're uniquely suited to care for and restore young teeth and gums. Pediatric dentists do not typically see adult patients, while a family dentist does.
A Helping Hand for Your Child's Dental Care
What can a pediatric dentist do for your family? In addition to medical dental treatments, pediatric dentists can give specialized guidance and preparation for your child's dental development. After all, a healthy smile is nurtured by what's done every day!
Here are some of the topics your pediatric dentist can assist your family with.
Proper teeth cleaning habits and methods.

Depending on their age and needs,

children need different amounts and types of brushing and oral cleaning

.

For example, infants need to have their gums cleaned with a moistened washcloth or gauze pad. Once their teeth have started to come in, they will need specific sizes for their toothbrush. They may also need different amounts of brushing depending on if they have teeth that are side-by-side or not. A pediatric dentist can assess your child's teeth and mouth and make sure you're following the best methods for their needs.

Good nutrition.

Balancing your child's diet

with a mix of fruits, vegetables, dairy, grains and protein is important for your child's growing teeth as well as for their general health. A pediatric dentist can give advice regarding specific nutritional habits for children. For example, a pacifier should never be sweetened with honey or sugar before giving it to an infant or child, and bottles should only be for milk, not juice or sweetened liquids. On the subject of sugar, ensuring your child eats a low sugar diet will help keep their teeth healthy and free from caries.

General childhood dental habits and treatments.

There are certain behaviors particular to infants and young children that can affect their teeth and gums, such as thumbsucking and nursing. Checking with an expert who knows best about these habits and how to manage them will help your child's oral health in the long run. Having a pediatric dentist help with early preventive procedures like

tooth sealants

also helps a great deal.
Find a Pediatric Dentist Today!
Don't worry about being unable to find a pediatric dentist. There are quite a few in the United States today! You can check with the American Board of Pediatric Dentistry's directory to find a pediatric dentist near you. You can also check with the American Dental Association's Find-A-Dentist tool and specify pediatric dentistry in your search.
Penn Dental Family Practice for Your Full Family Care
If you'd like to schedule an appointment with a pediatric dentist or get advice on how to start caring for your child's teeth and you live in the Philadelphia area, contact Penn Dental Family Practice at 215-898-PDPF(7337). Penn Dental Family Practice offers dentistry in a wide range of specialties. Whether it's dentistry for your child or your oldest family member, Penn Dental Family Practice is here for you!