Find the Right Teeth Whitening Method for Your Smile!
You may be under the impression that whiter teeth are difficult to maintain, but that is not necessarily the case.
A stunning 80% of Americans wish they had whiter teeth— but how many of them are getting what they want? If you want to make your smile whiter and make your teeth shine, Penn Dental Family Practice can help. Start by learning about your various options for teeth whitening!
Your Options for Whiter Teeth
There are a few options for teeth whitening to make your smile bright and white which vary in their intensity, outcomes, and application.
Home Teeth Whitening Kits
You can go to a drug store to get home teeth whitening kits that will brighten up your smile. This works best for surface stains, such as from coffee or red wine. These kits usually contain carbamide peroxide, a bleach that sinks into your teeth to change your natural tooth color. Some kits also contain a peroxide gel that functions as a toothpaste, which you can fit over your teeth for a few minutes a day for a set period of time.
These options are the most rigorous home teeth whitening options. The choices below serve as gentler approaches to brightening your smile.
Home Teeth Whitening Strips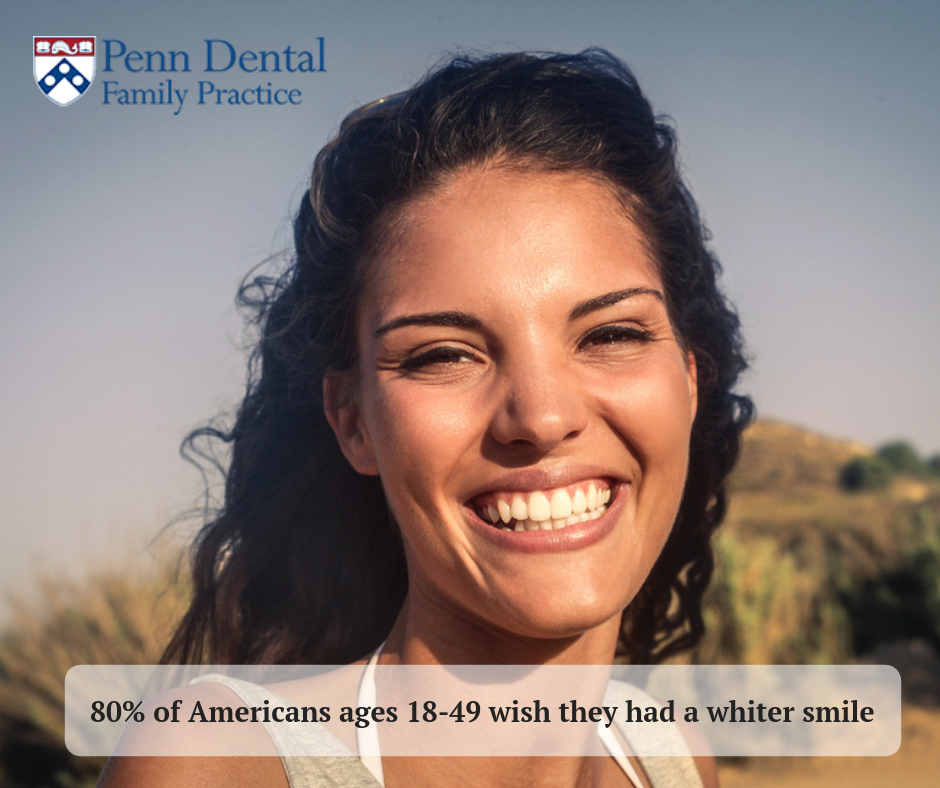 A whitening strip contains a peroxide gel that works slowly to bleach your teeth to a whiter color. While this approach does not last as long as more intensive treatments last, this is a good solution if you want whiter teeth for a single upcoming event, such as a party or a wedding.
Whitening Toothpaste and Rinses
You have probably seen toothpaste or mouthwashes marketed as "whitening" agents. These products usually contain abrasives or whitening chemicals that either polish or change the surface color of teeth. They do not change the natural color of teeth, and usually require a longer treatment period to be fully effective. If you're just looking to brighten your smile without requiring a substantial time commitment, this is the most cost-effective option.
Professional Teeth Whitening
Of course, if you're serious about whitening your teeth, nothing beats a visit to your dentist's office. While the above options may improve the color of your teeth by a few shades, the best results will always come under the care of a skilled professional. Here are a few things about professional treatment offers you cannot get at home:
Immediate Transformation:

Almost instantly, patients see a difference of five to seven shades.

Lasting Results:

Because professional teeth whitening works beyond surface stains, the results stick around longer

Minimized Risk:

Professional teeth whitening is considered a safe procedure by the

American Dental Association

.
During a professional treatment, your dentist will put together a teeth whitening plan that suits you. This is especially important for patients who have dental implants, veneers, or crowns, because home teeth whitening will not whiten your cosmetic dentistry.
The whole teeth whitening process only takes about an hour and a half, and take-home trays may be provided for touch-ups and home-maintenance. With a specialist performing the treatment, you can rest assured that the procedure will be completed safely and effectively.
If you want to learn more about teeth whitening, give Penn Dental Family Practice a call at 215-898-PDFP (7337). We will help you to get the smile you've always wanted!