Learn About the Precautions Taken in Our Dental Offices
Many patients are wondering if going to the dentist is safe in light of the coronavirus pandemic.
In the Philadelphia area, dental care was disallowed in the spring due to the Governor's stay-at-home orders, after which it went to being emergency-only. Now, dental offices can offer both elective and non-emergency procedures as long as proper infection control measures are in place.
The need for dentistry doesn't slow down or stop with a pandemic. Dentists perform essential procedures that prevent the development of oral disease. Not visiting the dentist means that untreated diseases can progress, increasing the complexity, invasiveness, and cost of future treatment. Poor oral health takes a heavy toll on overall health and wellbeing.
The Cost of Avoiding Dentistry
At Penn Dental Family Practice, we strongly encourage you to reschedule your regular dental appointment (if you missed it) or make an appointment if you haven't come in during the past year. Preventive care is more important than ever, as it's the main way you can avoid needing more invasive procedures.
If you are already aware that you're at risk for certain conditions due to your dental history, now is not the time to stop getting care. For example, if you've been dealing with a toothache, it is likely that you have an advanced cavity that requires immediate treatment. Or if you have a history of gingivitis or gum disease, you'll want to keep coming in for treatment to prevent it from progressing further. It bears saying that gum disease is the most common cause of tooth loss, which you can prevent with proper monitoring and treatment.
A Safe Environment for All
The dentists at Penn Dental Family Practice remain at the forefront of patient care and safety during this difficult time. As national leaders in dental best practice, we have implemented stringent standards to provide care for patients within a safe environment.
When you visit for your next appointment, you'll notice that many things have changed. Our office follows the infection control guidelines from the American Dental Association (ADA) and the U.S. Centers for Disease Control and Prevention (CDC). We follow the latest published news from these authorities to ensure that we remain up-to-date on any new recommendations that may be issued. The following practices have become standard operating procedures at our offices to protect our patients and staff:
1. Pre-Screening
Before your appointment, our office will communicate with you over the phone to ask several screening questions. These questions help us prevent unintentional exposure by people who may be infected with coronavirus. Please help us to protect our community by answering these questions truthfully and accurately.
2. In-Person Health Screening
Upon arrival, you will be asked the same screening questions again before you enter the office.
3. Face Mask Usage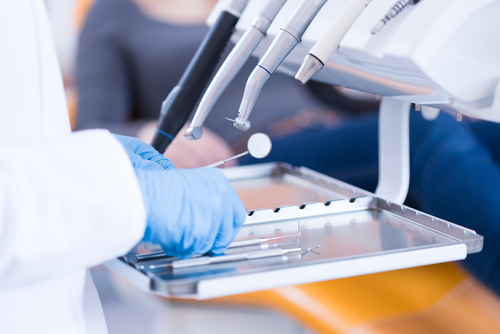 You will be asked to wear a face mask until it is time for you to receive treatment. We ask that you come to your visit alone, but if you do have a companion he or she will also be required to wear masks during the duration of their time at our offices. It's very important for everyone to follow this rule, as coronavirus can spread (even by a person without symptoms) when they breathe or speak. All our staff members will be wearing masks, medical gloves, and additional safety garments for work with patients.
If you don't have a mask, the CDC offers helpful guidance for making masks at home, including masks that don't require sewing.
4. Limited Appointments
To allow for social distancing, appointments will be scheduled with more time in between each. The purpose is to minimize the amount of time that patients spend in the presence of others while at our offices. Please arrive at your appointment a few minutes early to ensure that we can maintain this schedule and avoid keeping others waiting.
5. Sanitation Measures
For your safety, we have removed magazines and other shared objects from our reception area. We will be wiping down all touchable surfaces, including tables, chairs, and the reception desk. When you are in the dentist's chair, you will see that we take stringent sanitation measures (wiping down all equipment between patients, using disposable products) to maintain a virus-free environment.
Safe Dentist
ry at Penn Dental Family Practice
Many of you have been waiting patiently to return to the dentist for much-needed preventive and restorative care. When you visit our offices at Penn Dental Family Practice, you can trust that we utilize the most careful measures to ensure a clean environment. Because of the nature of the dental profession, we routinely maintain high levels of infection control and sterilization even in normal times. Now, we've added practices that adhere to the highest standards of safety protocol by public health authorities.
That means that you're safer at our offices than you would be almost anywhere else–like going to the store or a social gathering. As leaders in the field of dentistry, Penn Dental Family Practice is committed to setting an example for sanitation best practice in the Philadelphia and New Jersey regions. You won't find a dental practice that is more careful about creating a virus-free environment for patients. To schedule your appointment, please don't hesitate to call us at 215-898-7337.