Perhaps your general dentist just told you that it's time for your child to get braces. Or, maybe you're simply wondering if and when your child may need orthodontic treatment. It's normal for parents to have many questions about their child's dental and orthodontic health. While fielding all these questions, you probably can't help but ask the most important one: How do I go about finding the best orthodontist?
Although seeking a top-rated orthodontist for your child can feel overwhelming, at Penn Dental Family Practice, we help make that choice easier. Not only do we provide quality, reliable orthodontic care, we also offer two convenient locations in the Philadelphia area.
Learn more about why PDFP is the best orthodontist for kids (and adults) in Philadelphia for patients of all ages and stages.
Orthodontic
Treatment Options
for
Beautiful Smiles
(and More)
People often think of orthodontic treatments such as braces and invisible braces as the way to produce a beautiful smile. Other things are happening behind the scenes, though, like:
Correcting jaw and teeth alignment.

Closing gaps between the teeth.

Adjusting teeth that protrude.

Improving crooked teeth.
Because of the qualifications, training, and skills needed to safely and effectively provide orthodontic procedures, consult with a board-certified orthodontist. Board-certified orthodontists complete two to three additional years of education, equipping them to perform these orthodontic services (and others.)
Traditional Braces Versus Invisible Braces
Many parents are curious about traditional braces versus invisible braces for their child(ren). A consultation is the best way to determine whether traditional braces or clear aligners will best suit the needs of your child.
Traditional braces require metal wires and brackets with three to four-week adjustments. And, length of treatment varies for both children and adults—anywhere from 24 to 36 months.
Unlike metal braces with brackets, invisible braces utilize several stages of clear aligners to correct orthodontic issues. Typically, patients that wear clear aligners consistently and according to the recommended guidelines complete orthodontic treatment within 9 to 18 months. Patients often enjoy the freedom that aligners offer, such as being able to remove them for meals and increased protection from periodontal disease, compared to traditional braces.
What Is the Best Age for a Child to Receive Orthodontics?
Some children begin orthodontic treatment as early as age six or seven. Others may not need orthodontic intervention until later. Your orthodontist will confirm when your child should start treatment.
How Will Orthodontic Treatment Alter My Child's Routines?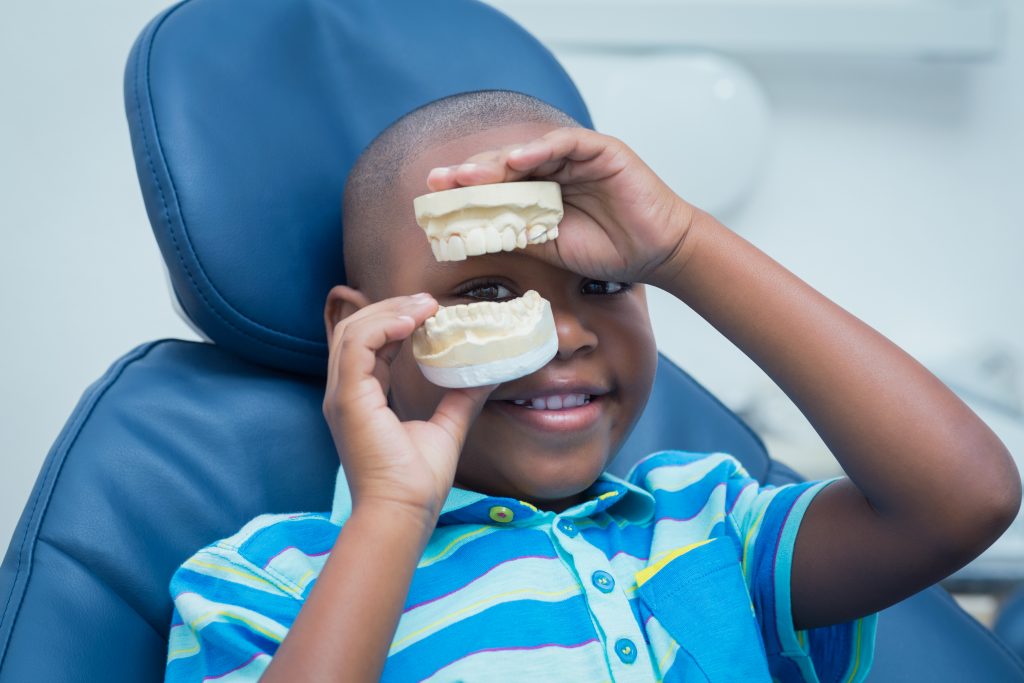 The type of orthodontic procedure determines the effect on your child's routines.
Children with traditional braces, for example, should avoid certain foods such as corn on the cob, sticky foods such as taffy-type candy, hard candies, mints, and nuts. Cut even crunchy apples and pears into smaller pieces to keep a wire or bracket from coming loose.
As for invisible braces, since the aligner trays can be removed when eating, there are no food restrictions. However, your orthodontist will likely reiterate the importance of keeping aligners in your child's mouth as much as possible, so as soon as mealtime is over, back in they go!
The only other way your child's routine may change because of orthodontic treatment is regular visits to the office for adjustments or a new set of aligners.
What Sets Penn Dental Family Practice Apart?
At Penn Dental Family Practice, part of what makes our offerings unique is a foundation of dental experts with extensive experience and knowledge in the art and science of dental medicine. Our PDFP dentists not only provide a variety of comprehensive services such as orthodontics, they are also respected professionals at the Children's Hospital of Philadelphia and the Hospitals of the University of Pennsylvania.
As the choice of best orthodontist in Greater Philadelphia, our patients select us because of the following reasons (and more):
We use the latest state-of-the-art technology and treatments, so you know you always receive the best that the dental field can offer.

We offer both traditional orthodontics and invisible braces, which means more options to meet your needs.

We have a caring, personal team dedicated to working with each of our patients individually and making sure they feel comfortable and cared for.

We offer comprehensive care with a full range of dental specialties (which means you can get dental care for the whole family all in one convenient location.)

We offer affordable care and accept many insurance plans, and provide financing plans and a financial coordinator to help find a payment option that works best for you.

We provide two convenient locations to choose from.
To learn more about how to select the best orthodontist near me, call us any time at 215-898-7337. Or schedule an orthodontic appointment any time.