Looking for the perfect smile, but not willing to be an adult with braces? We can help!
If you're an adult with crooken teeth, you may be wondering how you can achieve the perfect smile. While traditional braces are effective in aligning crooked teeth and correcting over and underbites, most adults aren't excited about looking like a middle school student all over again. Fortunately, there are ways to straighten teeth without braces available for adults and teens alike. Penn Dental Family Practice has experts in a wide range of dental fields, including orthodontics, the straightening of misaligned teeth. If you're wondering how to get straight teeth without braces, our orthodontic experts may be able to help you investigate which of the following options is right for you.
How to Straighten Teeth Without Braces: The Options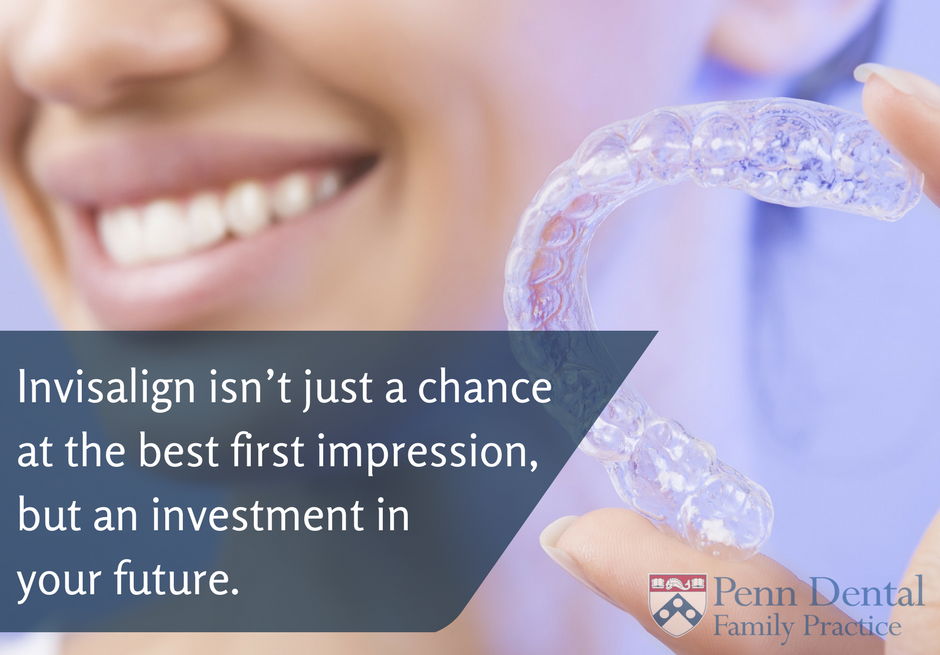 If you're an adult looking to maintain a professional image, traditional braces may not be the best option for treating your malocclusion (improper bite). It is important to note that while you may be looking for ways to straighten teeth without braces at home, taking orthodontic care into your own hands without consulting a dentist is not safe or effective. An orthodontist can help you to find the right treatments and devices to safely and efficiently realign your teeth. Some options your orthodontist recommends may include:
Retainers: There are three basic types of retainers, but perhaps the most well known is the Hawley retainer. This is a customized, removeable device made of a combination of acrylic and metal wires. These retainers may be noticeable when you wear them, but are removeable to eat or brush your teeth.

Appliances:

These devices are typically used to straighten teeth by correcting jaw imperfections that have contributed to the malocclusion. These appliances tend to be highly conspicuous and take time for results to be seen.

Invisalign:

This option uses clear plastic retainers to straighten teeth invisibly. The custom-made aligners are removeable and work quickly and discreetly to striaghten your smile.
While retainers and appliances are often effective for straightening teeth, they are still visible when you speak, laugh, or smile, meaning that they are not as discreet as many adults orthodontic patients would like. This is why Invisalign is an excellent option for busy adults who don't want to advertise to the world that they are in the process of straightening their teeth.
The Invisalign Difference
Invisalign is one of the easiest ways to straighten teeth without braces. It uses a series of clear plastic aligners to slowly reposition your teeth. Your dentist will start by taking molds of your teeth. Then, she or he will have aligners specially crafted to fit your mouth and your care plan. You'll wear these comfortable aligners for 20 to 22 hours per day, removing them to eat and brush your teeth. Every two weeks, you switch to the next aligner, which gently moves your teeth into the position your orthodontist has planned. During the treatment process, you will have occassional checkups with your doctor. If necessary, these appointments can even be completed over Skype, making Invisalign among the most convenient options out there!
As your teeth gradually and gently move into place, you will begin to see the results of your Invisalign treatment in just a few months! Treatment can last from 6 – 24 months, although the average course of treatment is just one year! After treatment, your dentist may recommend you wear a retainer at night to help maintain your new, beautiful smile.
Get Your Free Invisalign Consultation
After considering different ways to straighten teeth without braces, you may be ready for the next step towards Invisalign treatment. We are happy to help! At Penn Dental Family Practice, we are pleased to offer a complimentary consultation to patients who are interested in the service. During your consultation, you'll get a chance to talk with one of our outstanding orthodontists about your goals. Then, your doctor may take records of your teeth. With these, she or he can put together a Before and After video. You will have a chance to see the potential transformation of your smile before you even start treatment! Call Penn Dental Family Practice to set up an appointment at one of our two convenient locations in the Philadelphia Metropolitan area at 215-898-PDFP.