Missing teeth affect your health!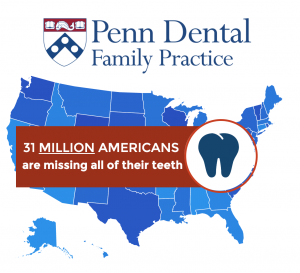 When over 35 million Americans are missing all of their teeth, and another 178 million Americans missing at least one tooth, it is essential that there is a dental speciality to restore and repair the smiles of America!
Prosthodontics is the "diagnosis, treatment planning, rehabilitation, and maintenance of the oral function, comfort, appearance, and health of patients with clinical conditions associated with missing or deficient teeth and/or oral and maxillofacial tissues", as stated by the American College of Prosthodontists.
What does that mean?
First, that means that a Prosthodontist is an oral architect for the restoration of your smile. It also means a Prosthodontist goes through an additional three years of education and training to provide their patients with the best treatment plan for their smile restoration.
As stated above the expertise of a Prosthodontist reside in the diagnosis, treatment development, and restorative care of a patient's smile, but what is the restoration process for patients? Each treatment plan varies from patient to patient depending on the reasons needed for a Prosthodontist.
Some Prosthodontist procedures include:
Crowns

Bridges

Complete and Partial Dentures

Inlays

Veneers

Onlays

Fillings
The prosthodontist meaning is the additional advanced training received when dealing with those who suffer from birth or congenital tooth anomalies, traumatic mouth injuries, oral cancer reconstruction, TMJ (temporomandibular) jaw pain, snoring, and sleeping disorders.
Statistics of Edentulism
Statistics show that Americans are in need of Prosthodontists more than ever. Out of the 35 million Americans that are missing teeth, 15% of the edentulous (lacking teeth) population have dentures made each year. The ones most affected by edentulism are the economically disadvantaged, and the geriatric population.
The ratio of edentulism within the geriatric population is 2 to 1. That means that nearly 23 million of the aging population are missing all of their teeth. That is a staggering number!
While the number of fully edentulous people is high, the partially edentulous affects a larger number of the adult population. With the numbers increasing over the next 15 years to nearly 200 million adult individuals with partially missing teeth.
Why Do You Need a Prosthodontist?
For the restoration of your smile – of course! However, Prosthodontist play a major role in your dental health. Those that are missing all or some of their teeth will experience jawbone deterioration, loss of chewing ability which can then affect the food they eat and their nutritional intake.
Choosing a Prosthodontist will not only ensure the restoration of your smile, but the prevention of other medical issues.
If you're trying to find what the Prosthodontist meaning is for you, contact Penn Dental Family Practice today! Let us renew your smile!