Illuminate your smile with the world's #1 choice for veneers!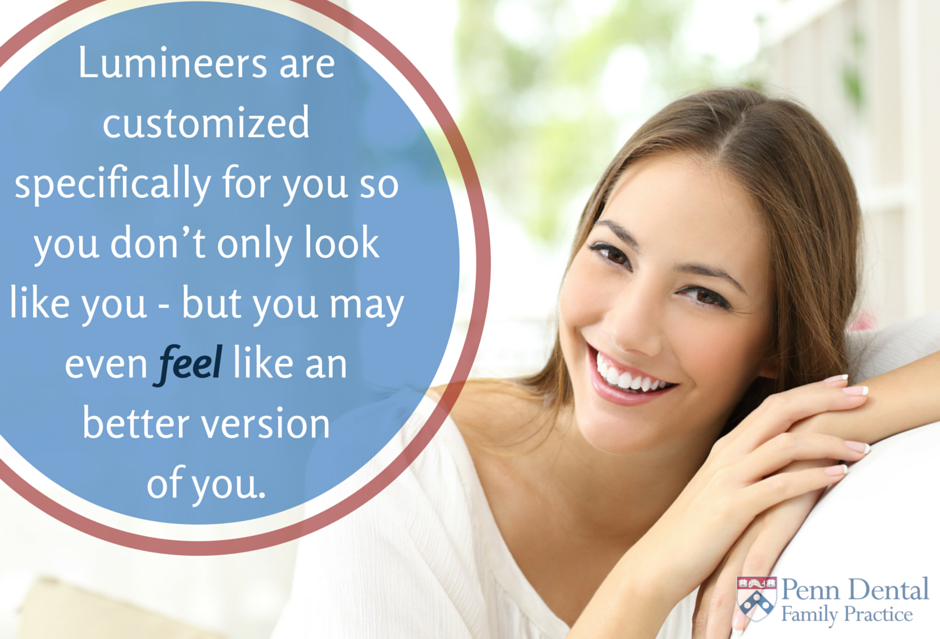 Do you find yourself hiding your smile? Perhaps you've done it for so long, you can't remember the last time you flashed your pearly whites for a picture. For some of us, we don't have pearly whites to flash. They may seem more like snarly yellows. Luckily for those living in and around Philadelphia, Lumineers are available to help you start smiling again!
What are Lumineers?
Lumineers are an ultra-thin porcelain or composite set of veneers that are applied over your teeth with absolutely no prepping. Your dentist creates a mold of your upper and lower teeth, and then sends the molds to the Lumineers laboratory where you're permanent Lumineers will be created. In the meantime, you do not need to worry about temporary veneers because no tooth prep was necessary.
Why Choose Lumineers?
For those who may be embarrassed or ashamed of their smile, there's nothing more freeing than letting go of these feelings and replacing them with confidence and pride. Lumineers cover your existing teeth to only show a beautiful, picture perfect smile.
Lumineers are also the #1 patient requested veneers in the world.
Receiving a Lumineers smile makeover is ideal for:
Those who want whiter teeth
Unusually sharp teeth
Unusually flat teeth
Those with space between teeth
Those who are generally unsatisfied with their smile
Lumineers FAQ's
Are Lumineers pain-free?
There's no catch here! Lumineers are absolutely pain-free. Because of their ultra-thin width (about as thin as a contact lens), you can get a perfect fit without shots or grinding down your teeth.
Are there different companies who make Lumineers?
Lumineers are exclusive, only made in the DenMat Lab.
How long do Lumineers typically last?
Your dental Lumineers should last for more than 20 years, as proven by clinical testing.
Can I still chew gum and eat sticky foods?
When you receive your Lumineers you can be confident to eat whatever it is that you want. Lumineers are durable and can withstand chewing the foods that you love.
How long has Lumineers been around?
For over 30 years, Lumineers has been changing smiles all around the nation. More than 13,000 dentists practice with Lumineers. Many actors and actresses have used Lumineers to brighten their smile.
Lumineers are customizable specifically for you so you don't only look like you – you will be an even better version of you.
To find a Lumineers doctor in the Philadelphia area, give Penn Dental Family Practice a call at 215-898-PDFP.