Let's celebrate our little fairy friends and discover the gifts they love to give your little ones!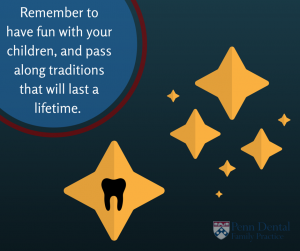 As a parent, you may or may not know that National Tooth Fairy Day is August 22. Are you prepared? If not, that's ok! We are here to help.
There's nothing more precious than the look on your child's face after the tooth fairy has come to visit. Are you new to the tooth fairy game? Perhaps you've run out of ideas and you're looking for something fresh. Here at Penn Dental Family Practice we want nothing more than to make oral health the best and exciting experience for your child.
Check out some of these ideas of goodies to leave for your child's special morning.
National Tooth Fairy Day & Penn Dental Family Practice Bring You
Tooth Fairy Madness – Ideas For Parents
A Tooth Fairy Receipt
Simply create a fun receipt to leave with your child the morning after they lose their tooth. You can create one on your own, stating:
The Date

Child's Name

Child's Age

Tooth Rating (Excellent, Good, Fair)

Amount

A note at the bottom, reminding them to brush and floss

everyday
Magical Money
We all know the tooth fairy loves to give money for teeth. So, why not make the money itself just a little more – magical? By spraying a dollar bill with glitter (such as – glitter hairspray) you can leave your child with a little magic to make them smile.
Glitter It All
There's nothing that puts a bigger smile on a child's face than fairy dust & glitter! Have some glitter ready for your child to sprinkle outside their window – perhaps on the grass or sidewalk to let the tooth fairy know that she needs to visit! When your child falls asleep, be sure to create some footprints with the glitter, on their window sill so they can see that the path that the tooth fairy took!
Tooth Fairy Pillows
If you are a super DIY'er, you can create pillows for your child to put their tooth in! Place a little pocket in it, and you can put the tooth fairy money inside as well. Some people create pillows with their child's name or a tooth shaped pillow. If your child is a light sleeper, add some ribbon so that you can hang the pillow on your child's doorknob.
Tooth Fairy Cocktail
During the summer, before your child goes to bed, fill up a clear glass of water. Tell them to put their tooth at the bottom of the glass, so that the fairy can go swimming on a hot summer night. When your child is asleep, remove the tooth from the water and add a few drops of food coloring. When your child wakes up in the morning – you reveal that the tooth fairy's dress colored the water!
Name That Fairy
The most important part of National Tooth Fairy Day is Tooth Fairy Awareness! Be sure that you and your child discover the name of their tooth fairy. Some whimsical examples include:
Twinkle Fly

Pepper Mist

Shimmer Dust
You can even find cute tooth fairy names online with tooth fairy name generators.
Remember to have fun with your children, and pass along traditions that will last a lifetime. Here at Penn Dental Family Practice, we do our best to help make your child's milestones memorable.
If you have any further questions about your child and the importance of routine dental visits, give us a call at 215-898-PDFP (7337)