Discovering what a prosthodontist can do for you may end up changing your life!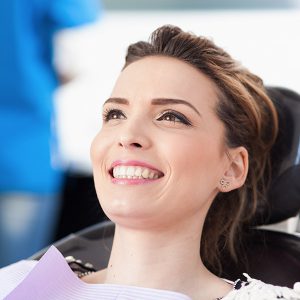 Are you or someone you love in need of a new set of teeth? Perhaps the teeth you have are so worn down, you've been dreaming of a set of pearly whites to replace them. Maybe you currently have many missing teeth that need replacement not just because you want them to look nice – but because you would like to enjoy a hearty meal.
The Prosthodontist Definition
No matter the reason, a prosthodontist can help make your dreams come true. The Prosthodontist Definition describes as one who works in the branch of dentistry that is concerned with the design, manufacturing and fitting of artificial replacements for teeth and other parts of the mouth.
So, what does a prosthodontist do? Here is a list of some treatments they offer and concerns they address::
Crowns and Bridges – Used to cover existing and missing teeth, to help with function and keep from fracture

Complete & Removable Partial Dentures – Used to replace teeth for full functionality

Dental Implants – For permanent replacement of missing teeth

TMD-Jaw Joint Problems – Aid in maintaining a healthy bite

Traumatic Mouth Injuries – Assisting in treatment of injuries by providing restoration and replacement

Snoring or Sleep Disorders – Providing appliances that aid in providing solutions to these problems

Oral Cancer Reconstruction & Continuing Care – Aid in recovery from oral cancer to help bring functionality back to the mouth
Why You Should Visit a Prosthodontist Over Any Other Specialist or General Dentist
There are times in our life when our needs call for a specific specialist or person to help take care of us. For example, if we need a crown or bridge – do we need to be seen by a prosthodontist? After all, a general dentist can do the same thing for us.
Visiting a prosthodontist may be better for you then visiting any other dentist if you:
Are searching for a dentist with advanced training in esthetic restorations or replacement of teeth

Want to improve the function of your teeth

Want to improve the look of your smile

Wear dentures or other removable prosthetics and need relines

Need dentures or other removable prosthetics

Are interested in dental implants

Need a second opinion
No matter the reason, you can choose Penn Dental Family Practice to help restore the beauty in your smile, and provide functionality that can help boost your confidence and improve your health by allowing you to eat the foods you've been longing for! When it comes to the prosthodontist definition – Penn Dental describes it to a "T".
For more information on discovering your options and to find a prosthodontist, you can give us a call at 215-898-PDFP (7337).
Related Tags: Prosthodontist Definition | Prosthodontist