Cutting-edge modern technology that will transform your visit
Penn Dental Family Practice is excited to announce an exciting new addition to our Locust Walk location! This new member of the PDFP Locust Walk team is only a few feet tall, moves on wheels, and is plated with stainless steel. It zips around, has incredible vision, an active imagination, and is very, very smart. What could it be?
As part of our continuing dedication and commitment to technology and expertise, we have added a state-of-the-art iTero scanner to our office! This unbelievable piece of modern dental technology is the latest release from iTero, and promises to be their most advanced and helpful piece of dental equipment yet. The iTero scanner is already vastly improving the treatment of patients across the country, and soon you can expect to see it doing the same for our patients at Locust Walk!
How Can the iTero Scanner Help You?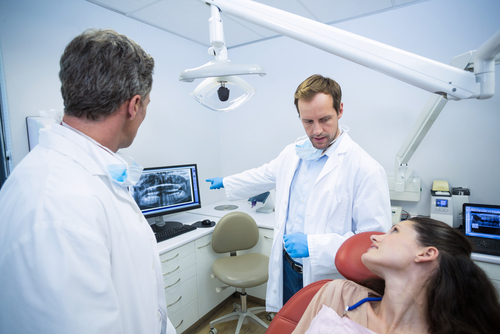 The iTero intraoral scanner is a cutting-edge imaging tool used by dentists to create high-detail 3D images of a patient's mouth and jaw that can then be manipulated. Common applications of this technology include designing crowns and other prostheses, preparing models for oral surgery, and even modeling an Invisalign treatment.
You'll never have to chomp on a mouthful of impression goo again! Instead of taking a traditional impression (a playdough-like goo), which is not only unpleasant but takes a while and can be in accurate, the iTero scanner uses a non-intrusive wand to create a 3D image. This technology is so advanced that after scanning a patient's mouth and building a virtual 3D model (a quick process which it can do on the spot), it can simulate the effects of Invisalign on the model. This means a dentist can show patients exactly what will happen over the course of their Invisalign treatment, or other treatments.
This sort of high-tech imaging is essential to almost everything we do here at Penn Dental Family Practice. With these high-quality scans and images, our dentists will be able to plan and execute our patients' treatments most accurately and precisely than ever before. With the level of detail that the iTero intraoral scanner provides, we're able to design prostheses, orthodontia, and other dental appliances down to the tiniest details. Your dental work will be more comfortable and effective than ever before!
And what's better, the whole process will be accelerated! The largest delay in the Invisalign process is the time it takes to send impressions to Invisalign and communicate about a patient's needs. With the quality of detail in this scanner and the technology that lets us project the effect of Invisalign on a patient, you don't need to wait at all!
The iTero scanner is just the latest step in Penn Dental Family Practice's long history of commitment to technology, education, and patient comfort. Being the university that we are, we care deeply about the future of the field, and our doctors believe that this is the future of the profession. As soon as we get the scanner setup and running, we'll switch over to it exclusively, so we can provide all of our patients with the comfort and speed it provides.
We're very excited about the new addition to our Locust Walk team, and we hope you can take advantage of it too! For more information on the iTero intraoral scanner and what it can do for you, give us a call today!