What to Expect from Your New Invisible Braces
If you're in need of orthodontic treatment and concerned with the appearance of traditional braces, than you may want to explore invisible braces. There are many benefits to invisible braces, but some patients hesitate to try it because they're worried about the possibility of experiencing invisible braces pain. Have you been wondering what to expect regarding the comfort of this treatment?
Penn Dental Family Practice is a leading provider of invisible braces in the Philadelphia area. Our many years of experience have allowed us to develop a knowledge base about the pros and cons of every type of orthodontic treatment. While each patient's case is unique, we're also aware that people often have similar concerns about orthodontics.
Orthodontic treatment is an investment, but it's one that continues to deliver returns for the rest of your life. Just like traditional metal braces, invisible braces will straighten your teeth and correct your bite. You'll benefit from the new confidence that comes with having an attractive smile as well as saving money and avoiding pain.
The long-term benefits of invisible braces (and any orthodontic treatment, for that matter), far outweigh any temporary discomfort it may cause. You may be wondering what exactly you should expect in regards to invisible braces pain. Here, we cover a few basic questions that patients often ask us:
What are invisible braces?

What can I expect from the invisible braces process?

Do invisible braces hurt?
What are Invisible Braces?
Invisible braces consists of a clear set of plastic aligners rather than brackets and wires that are used for traditional braces. Invisible braces do the work of traditional braces in a shorter time frame and with fewer restrictions.

How Does the Invisible Braces Process Work?
Your first consultation with the orthodontist is a time to evaluate your particular case and determine the best treatment plan for you. You'll have the opportunity to ask any questions or concerns you have about invisible braces. If you choose to move forward with invisible braces treatment, your dentist will take X-rays and a dental impression, which will be used to manufacture your custom-made invisible braces.
At Penn Dental Family Practice, you'll enjoy the comfort of our digital impressions, which are also more precise than traditional impression methods. Computer-aided design and computer-aided manufacturing (CAD/CAM) ensure a custom fit, which maximizes effectiveness while cutting treatment time.
In a few weeks, you'll receive your invisible braces trays in the mail. You should wear them for up to 22 hours a day, only removing them to eat and brush your teeth. Every two weeks, you'll switch out your aligners for a new set that will gradually push your teeth into proper position. So long as you follow treatment instructions, you'll be finished with the entire process before you would with metal braces. Invisible braces can take as little as six months or as long as 24 months, still much less time than the three years estimated for traditional braces.
Do Invisible Braces Hurt?
Like any orthodontic treatment, invisible braces rely on technology that gradually shifts the teeth into alignment. Anytime teeth must be shifted or moved, there's a possibility for discomfort. Most patients experience discomfort during the first few days of wearing invisible braces.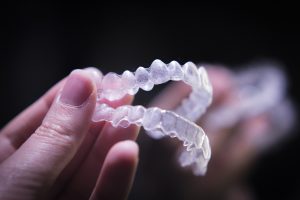 When asked to describe this, patients have reported that the sensation is more akin to pressure or tenderness rather than pain. An independent study on the invisible braces experience found overwhelmingly positive results and a high degree of acceptance of the treatment among patients:
Within one week of using invisible braces, 83% of patients were already accustomed to their aligners.

35% of patients experienced no pain at all, while 54% experienced mild invisible braces

pain

while wearing aligners.

The patients who did experience discomfort said it lasted for only two to three days after putting in their new set of aligners.

When patients were interviewed, 89% were satisfied with the progress of treatment.
This study shows us that discomfort from invisible braces do vary from person to person, but that any pain experienced will not be significant. Patients became accustomed to wearing invisible braces very quickly and were pleased with the progress of the therapy. Even among patients who did experience some discomfort from the pressure, this lasted a short time relative to the total treatment time for each tray (a maximum of three days out of 14).
This study did not report on pain from the aligners rubbing against the gums, which we have seen in some of our patients. The good news is that, as with traditional braces, a simple solution is available. You can apply dental wax to the rough edges of your aligners to remove the friction. If that doesn't work, your orthodontist can file down the edges for you!
Penn Dental Family Practice wants you to have the best orthodontic experience possible while remaining informed about what to expect. We've had the pleasure of watching patients walk out of our office, amazed at how quickly and effectively their invisible braces treatment delivered results for them. An attractive, healthy smile for life is what we give our patients with this revolutionary dental technology. If you'd like to explore the possibility of invisible braces treatment, you can call us to schedule your initial consultation at 215-898-7337.