Prevent pediatric dental issues with the right care.
The sooner your child begins to receive regular dental checkups, the better their overall oral health will be for years to come. Early checkups are essential in the prevention of tooth decay, one of the most common chronic childhood diseases in the United States.
According to the American Dental Association, every child should be visiting a dentist by the time their first tooth appears, but no later than their first birthday. At your child's first dental appointment, they will be examined by the dentist to ensure that their teeth are developing the way they should. The dentist will check for cavities and other oral issues, clean your child's teeth, and give you information about daily dental care.
Some new parents wonder whether early childhood dental care, especially dental appointments, are actually necessary. The importance of pediatric dental care cannot be overstated. Visiting the dentist early will put your child on a trajectory towards better oral and overall health for years to come. Here are three reasons why early childhood dental care is so important: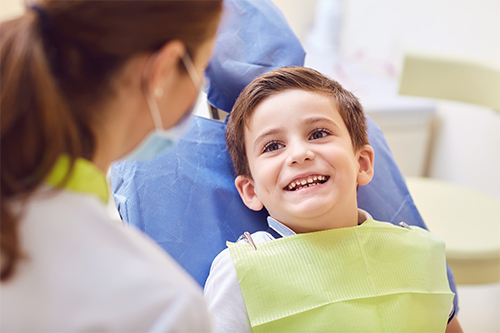 Cavities impact a child's quality of life.
Cavities can have wide-ranging negative effects on your child's health. Cavities occur when the outer layer or your tooth is eroded by bacteria. Left untreated, the pain of the cavity will only progress and can lead to to disturbed sleep, poor appetite, lack of concentration, and weight loss. The decrease in eating can cause developmental delays in children under two years old.
When children visit the dentist, these issues can be detected and treated early on in their development. This protects your child from the pain of untreated infection and also reduces their likelihood of having a traumatic dental experience. Dental emergencies can be traumatic for children, and may lead to the development of dental anxiety.

Childhood dental caries lead to long-term problems.
When a child's cavity is not treated in a timely manner, the effects are long-lasting and costly. Use of preventive care, such as fluoride application, can slow down the progress of a cavity. The longer patients delay treatment, the more significant the damage to your tooth will be.
Tooth extraction may be necessary if the tooth is beyond deemed beyond treatment. Orthodontic problems may develop when teeth are extracted early in life, as extraction impacts oral development. Early childhood caries are associated with greater risk for future tooth decay, leading to long-term problems that may require more significant treatment. Seeking pediatric dental care when your child is a toddler will allow you to minimize these risks and guard against chronic issues.
Pediatric dentistry helps to establish good dental habits from the outset.
Many parents assume that because they brush their own teeth regularly, they will impart good oral health care habits on their children. Pediatric care is not the same as adult oral health care, and brushing technique must often be corrected to ensure the best oral health care development. Your dentist will assist you and your toddler learn the proper way to care for your toddler's teeth.
You'll not only learn proper brushing technique for baby teeth; you'll receive the most up-to-date information about what to do to promote excellent dental hygiene. Having this individual consultation with the dentist has helped many parents to make important lifestyle changes for their child's well being; for example, decreasing juice consumption to reduce their child's risk of developing a cavity.
Early Childhood Dental Care at Penn Dental Family Practice
The dentists at Penn Dental Family Practice are caring, knowledgeable, highly experienced professionals who want to help your child attain excellent oral health. No one wants to worry about the possibility of the pediatric dental issues associated with poor dental care in childhood. By choosing a Penn Dental Family Practice dentist to oversee your child's dental care, you can rest in the knowledge that they are in trustworthy, capable hands.
To make your child's appointment at Penn Dental Family Practice, please call us at 215-898-PDFP(7337).