As School Starts, It's Time to Check on Your Child's Daily Dental Care
As you prepare your child for the upcoming school year, don't forget to schedule their annual dental appointment! Taking your child to the dentist is one of the most important things you can do for their short and long-term oral health.
If you're wondering how to ensure your child has the best back-to-school dental visit possible, then you've come to the right place! With all the excitement the summer break brings, it's possible for oral hygiene routines to fall by the wayside. Help get your child back on track in anticipation of starting the new school year with a dental visit. As school starts up again, you can take advantage of the more structured days to reintroduce these important daily practices. Below, see our top three tips for cultivating a healthy smile.
1. Proper Brushing
Depending on your child's age, you may need to brush their teeth for them. As a rule, we recommend that parents brush their children's teeth until around age 6, when they have sufficient dexterity to do so for themselves. Once your child begins taking responsibility for brushing, you can encourage them by expressing how proud you are and asking them to show you their excellent technique. It's important to continue monitoring your child's brushing even after age six. A child will form this habit during their early years, so it's very important to insist on consistency!
Proper technique involves brushing from a 45-degree angle from the gum line. A circular motion should be used as you (or your child) brush over the outside, inside, and chewing surfaces of the teeth. Avoid vigorous brushing, as this is not necessary and can actually hurt the gums. Toothbrushes should be replaced every 3-4 months and sanitized if your child gets sick. To learn more about the best way to brush, be sure to ask for specifics from your child's dentist.
2. Floss Early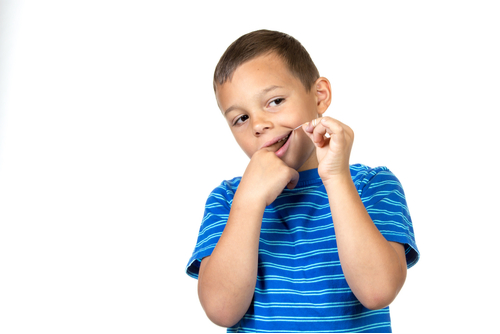 Flossing should begin when your child is around age 2 or 3, once there are several teeth touching. Children generally need help with flossing until they are 8 or 9 years old. Flossing helps to remove the plaque that builds up between the teeth. It is also necessary to:
Remove the debris that adheres to the teeth and gums
Control and prevent bad breath
Polish the inner surfaces of the teeth
Sometimes, parents don't teach their children to floss simply because they aren't in the habit of doing it themselves. A 2017 survey conducted by the American Dental Association found that only 16% of the population reports daily flossing. These low numbers show that many people are not aware of the importance of flossing for good oral health. Without regular flossing, the gums can become inflamed from chronic exposure to dental plaque. Flossing your child's teeth will greatly reduce their risk of gum disease in the future and prepare them for a hassle-free back-to-school dental visit.
3. Cut Down on S
ugary Foods
While this may be one of the most difficult tips for many families, it's also one of the best strategies to promote oral health. Did you know that dental decay is the most common chronic childhood illness in the United States? Baby teeth are particularly vulnerable to the effects of tooth decay, and consuming an abundance of sweets is a surefire way to increase this risk. Even "normal" food products often have sugar added to them, which can make this issue even more complex. When grocery shopping, we recommend comparing labels to select the product with lower sugar content.
Pediatric Dentist
ry at Penn Dental Family Practice
Even if you haven't been keeping up regular dental routines with your children as much as you would have liked, you can hit the restart button by making a back to school dental visit. At your child's dental appointment, you'll have the opportunity to ask questions about brushing and flossing for children. If your child has the beginnings of a cavity or gum disease, a pediatric dentist can treat this early through evidence-based interventions. To schedule your child's next (or first!) dental visit, please fill out this contact form or give us a call at 215-898-7337.