Many people with crooked teeth want them straightened. However, not many adults are excited to wear braces. If only there was a manual on how to straighten teeth without braces!
Although there isn't an official manual (at least for someone other than an orthodontist), there actually are ways a professional and experienced orthodontist can help straighten your teeth without traditional metal braces.
Today, there are several alternatives to braces that remedy crooked teeth which are less conspicuous and produce radiant results. If you'd like to learn more about a treatment plan to help you achieve your perfect smile (without braces), Penn Dental Family Practice can help.
Three Ways to
Straighten Your Teeth Without Braces
While traditional braces are effective in remedying crooked teeth, correcting overbites and underbites, and improving jaw alignment, many adults would rather not feel like they're re-living middle school (with a full metal mouth)! Fortunately, there are ways to straighten teeth without braces that are available for both adults and teens.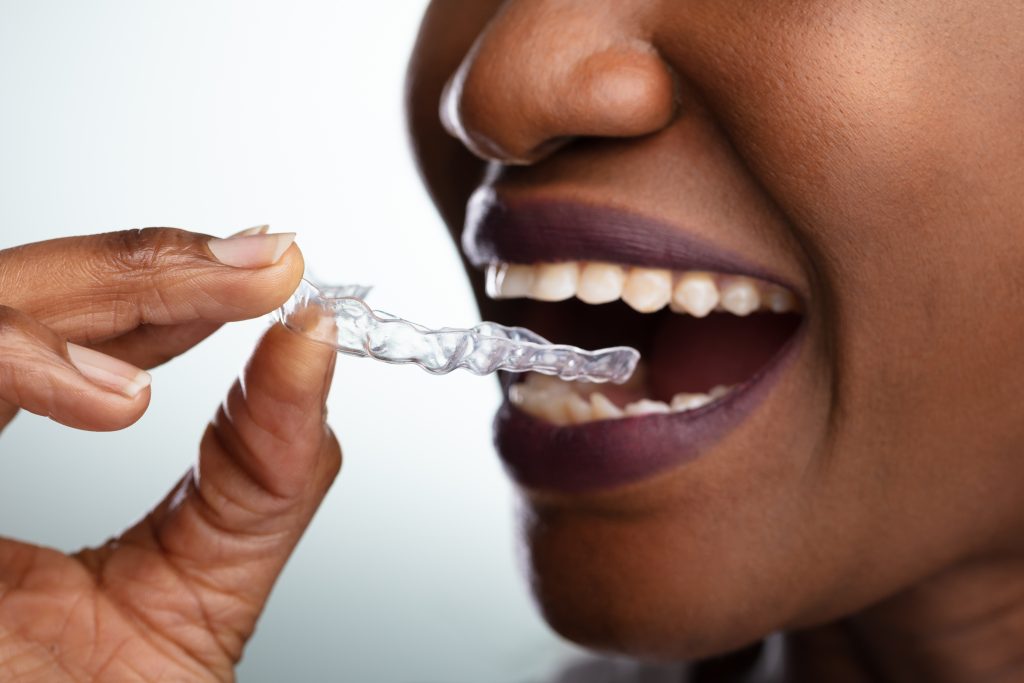 A professional dentist or orthodontist can help examine your teeth, jaw, and bite to help determine which of the following options may be right for you.
Retainers


There are three basic types of retainers, but perhaps the most well known is the Hawley retainer. This customized,

removable retainer

is made of a combination of acrylic and metal wires. These retainers may be noticeable when you wear them, but can be removed when you eat or brush your teeth.

Appliances


Various appliances, such as a

palate expander

and

fixed retainer

are typically used to straighten teeth. Some of these devices accomplish this by correcting jaw imperfections that have contributed to the malocclusion.

Invisible Braces


Also referred to as "clear aligners,"

invisible braces

straighten the teeth utilizing a series of custom-made aligners. Although these aligners can be removed, it is best to wear them a minimum of 22 hours for optimal results.
Which Orthodontic Option is Right For You?
It's important to note that while you may be looking for ways to straighten teeth without braces, taking orthodontic care into your own hands without consulting a dentist or orthodontist is not safe (or effective). In fact, according to the American Association of Orthodontists (AAO), some patients have experienced tooth and gum loss as a result of opting for direct-to-consumer orthodontic treatments.
An orthodontist can help you to find the right treatments and devices to safely and efficiently realign your teeth.
As far as determining which orthodontic treatment is right for you, it depends. Retainers and appliances, for example, while often effective for straightening teeth, are still visible when you speak, laugh, or smile. This means that they are not as discreet as many adult orthodontic patients would like.
Invisible braces, opposed to retainers and appliances, are less visible to the eye, and are often well suited for busy adults who'd rather not make their orthodontic treatment widely known. Once your orthodontist makes an impression of your teeth, specially-crafted aligners are made for each stage of treatment. Every two weeks, you switch to the next aligner, which gently moves your teeth into position. During the treatment process, you will have occasional checkups with your orthodontist.
As your teeth gradually and gently move into place, you will begin to see the results of your invisible braces in just a few months! Treatment can last from 6–24 months. Additional benefits of invisible braces include:
Aligners can be removed for meals, oral hygiene, and important events
Oral health

routines can remain the same (unlike metal braces that make flossing difficult)
Aligner trays are comfortable, made to fit just right for you
If you have been curious about invisible braces, we encourage you to take advantage of a free consultation with a Penn Dental Family Practice orthodontist.
One Step Closer to Your Perfect Smile
After considering different ways to straighten teeth without braces, you may be ready to take the next step. We are happy to help! During a consultation, you'll get a chance to talk with one of our highly-skilled and knowledgeable orthodontists about your goals. Then, digital images may be taken of your teeth. These are then used for a before and after video to provide you with an idea of the transformation your smile can take—before you even start treatment!
Call Penn Dental Family Practice to set up an appointment at 215-898-PDFP.