Do your chipped, cracked, crooked, or stained teeth leave you wishing you could get a movie star's smile? Once you compare how your mouth looks before and after dental veneers, you'll know that a gigawatt grin is within reach!
Dr. Charles Pincus was a cosmetic dentistry pioneer and "Dentist of the Stars." In the 1920s he popularized using snap-on veneers made from powdered plastic and porcelain to give a smile makeover to stars like Shirley Temple and Judy Garland.
Today, dental veneers aren't reserved for the silver screen. Read on for more information about this procedure and how it can give you a smile that ought to be in pictures.
What Are Dental Veneers and Why Do People Want Them?
Dental veneers are thin shells of tooth-colored material covering the front side of teeth. They can hide permanent stains from view, and make gaps between teeth appear closed. Dentists and dental technicians custom design them to fit your mouth and enhance your natural smile as comfortably and precisely as possible.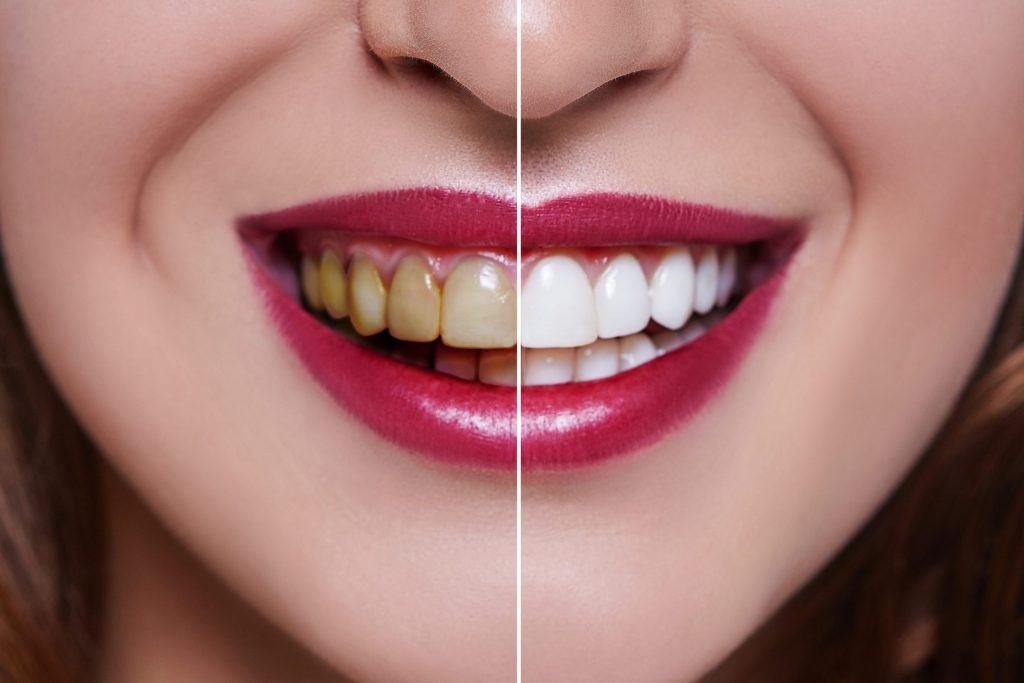 Veneers aren't only for cosmetic dentistry. Dentists also use them to help fix broken and chipped, crooked, or decayed teeth.
Veneers can't solve all smile design problems. They can't take the place of missing teeth—only dental implants can. They're also only for your 12-16 front teeth. Restoring back teeth often requires dental crowns.
Comparing and Contrasting Composite and
Porcelain Veneers
The two most common types of dental veneers are composite and porcelain veneers.
Composite veneers

are made of tooth-colored resin. Your dentist will either directly apply the resin to your teeth—shaping, hardening, and polishing it while you're in the dental chair—or fabricate veneers from it on a mold of your teeth.
Composite veneers are appropriate for fixing minor damage or problems related to tooth shape and size. They typically last 5-7 years. Placement is a minimally invasive procedure.
Porcelain veneers

are made of thin, glazed ceramic. Dental technicians make them in a dental laboratory using an impression of your teeth as their guide.
Stronger than composite veneers, porcelain veneers typically last 10-15 years. They better resemble natural teeth, and offer the most resistance to stains. However, the procedure is more invasive and expensive than getting composite veneers.
What Happens When You Get Dental Veneers?
Here's what you can expect before and after veneers are placed. The procedure typically involves three visits to your dentist:
Your dentist will examine your mouth, evaluate your oral health, recommend any treatment you may need before receiving veneers, and determine which type of veneer will work best.
Your dentist may remove about 0.5 mm of enamel, a dental veneer's approximate width, off your teeth's surface. Then—unless your dentist plans to apply composite resin directly—you'll bite down on a mold to make an impression of your teeth. This mold allows for the manufacture of customized veneers.
Composite veneers can be made the same day as placement. Porcelain veneers may take two to four weeks.
Your dentist will compare the veneer's color to your other teeth, and may adjust it using dental adhesive. The veneer may also need trimming for the correct fit.
After cleaning and etching your tooth to ensure a strong bonding, your dentist will use adhesive to place the veneer. A curing light quickly hardens the chemicals. Your dentist will remove excess adhesive and make any needed adjustments.
PDFP Can Give You a Smile Ready for a Close-Up
The cost of dental veneers can be high. ranges about $900-$2,500 per tooth. Because they last many years, the cost is a long-term investment in your smile and your quality of life. Clinical surveys show most patients report high satisfaction with their smile makeovers.
One point to remember before and after veneers: Both composite and porcelain veneers are usually irreversible. Once a veneer is in place, it's there to stay.
Also, some food and drinks—especially coffee, tea, and red wine—may stain veneers. Follow your dentist's recommendations to avoid future disappointment and dissatisfaction with your results.
Penn Dental Family Practice (PDFP) offers veneers and other cosmetic dentistry services. We offer not only high quality work using state-of-the-art materials and techniques, but also a wide variety of flexible payment options. Members of PDFP's insurance plans will find cosmetic services are eligible.
For more information, download our free eBook, The Best Cosmetic Dentistry Procedures to Transform Your Smile.