Avoid the deterioration of your jawbone by doing this!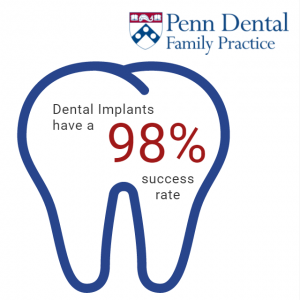 Are you hiding your smile because of a few missing teeth? Have you tried temporary solutions, only to feel frustrated and disappointed? Do you want a longer-lasting, more permanent solution? Of course you do! At Penn Dental Family Practice, we can offer you that permanent solution with our new dental implant procedures!
Dental implants have numerous benefits for those who are missing one, multiple, or all of the teeth. Essentially, dental implants replace the root structure that you lost when you lost your teeth. Implants are screw-like artificial tooth roots that are surgically placed into your jawbone to provide a strong foundation for your artificial teeth.
Disadvantages of Missing Teeth
The truth is the way you look affects the way you feel. One of the most obvious disadvantages of missing one or more of your teeth is aesthetics. When people are missing teeth, they're embarrassed to smile, and will often avoid activities which could expose the gaps in their mouth.
There's a more problematic issue lurking beneath those missing teeth. The truth is that your jawbone needs stimulation to maintain its shape and density. Your teeth provide the stimulation that your jawbone needs with every bite you take. When you have missing teeth, that portion of your jawbone begins to breakdown. If you don't receive a dental implant after you lose a tooth, the bone will see a 25% decrease in width within the first year. As time passes, your bone continues to breakdown in height, width, and volume. The deterioration of the bone can cause facial restructuring especially for those that are missing all of their teeth (edentulous). With new dental implant procedures, Penn Dental Family Practice can provide you with a beautiful smile by helping decrease chances of bone deterioration.
Advantages of Dental Implants
What are the advantages to dental implants?
Physical Appearance – With dental implants, you no longer have to be embarrassed by your missing teeth and your smile. Implants give you back your confidence.
Stops Pain – Missing teeth can be uncomfortable and sometimes painful. With dental implants, you have new permanent teeth that allow you to chew without discomfort.
Improved Oral Health – By getting implants you will begin to stimulate the jawbone,and help stop and prevent bone loss.
New Dental Implant Procedures
Most dental implants require a 3-part process, but the new dental implant procedures we provide can take care of the entire operation in one visit.
A one-stage procedure will allow the dentist to place the implants and artificial teeth during the same visit. However, this one stage procedure requires that the implants not be moved at all for at least 2 months. With this procedure, it's required that the patient eat a soft food diet for 6-8 weeks to ensure the success of the implants.
The two-stage procedure allows the dentist to place the implants. For the next 2- 6 months the implants will fuse to the jawbone in order to secure a foundation for the artificial teeth. At the next procedure the dentist uncovers the implants, and places healing caps and/or extensions, and then places the artificial teeth.
The last procedure is when you will head to your general dentist to get your implant restored. This will ensure your implant looks as natural as your other teeth.
The American Academy of Implant Dentistry says that dental implants have a 98% success rate! So what are you waiting for? Contact Penn Dental Family Practice to make an appointment today!