New Semester, New Smile: Let PDFP Help
It's hard to believe that autumn is right around the corner! But as we wait for the leaves to change, school is already in session. For most colleges in Philadelphia, the fall semester starts in mid-to-late August, so if you're a student, you're probably already moving in and looking forward to a new semester! Let Penn Dental Family Practice help you prepare for a brand new school year with some back-to-school dental tips.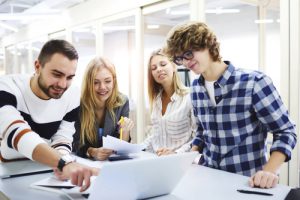 For many students, dental care might not be at the top of your priorities, but it should be. Proper dental care can make a huge difference in your academic career. A smile is a valuable tool, and you'll find that your bright smile builds your confidence.
Besides the confidence that your pearly whites will bring, you're also avoiding dental problems with a big price tag attached. Many students get cavities during their university years, even when they've had a history of perfect teeth up until that point.
Plus, good dental hygiene means good dental health, which means less time in the dentist's chair for a toothache and more time spent furthering your academic career (or just enjoying life)! Let us help you get ready for the new semester with a few back-to-school dental tips.
Back To School Dental Tips for the Fall Semester
Back to school isn't just a time of year, it's a feeling in the air! Let us help you get ready for the fall semester and all that it brings with a few back to school dental tips. Follow our advice and you'll have a dazzling smile all year long.
The best dental care is preventive care.


When something is really wrong with your teeth, like gum disease or a cavity, it takes a lot of time and energy to fix. You'll have to be in the dentist's office a lot, possibly on medication, and probably in some pain. And even if insurance covers most of it, you'll still have to pay your premiums and deductibles. So why let it get to that point in the first place? Regular appointments with a general dentist for cleanings and checkups can easily prevent the worst dental problems from emerging. Save yourself time and money with

preventive care

.



Flossing takes time, but it's worth it.


You don't have to see a dentist for all your preventive care. If you take care of your teeth at home, you'll keep your mouth healthy and will have less need for a professional dentist. A big part of keeping the mouth clean is regular flossing. Most people go home and ignore what their dentist said about flossing, but regular flossing keeps your gums and teeth healthy and clean

in ways that nothing else does

. If plaque buildup is allowed to take place between your teeth, it can damage your gums and lead to cavities and disease. Stop it before that happens! Floss regularly to keep your teeth clean.



If you need a dentist, PDFP is close by.


Going to the dentist might seem like a hassle when you're in school. You have to find a time between classes to go, it's hard to get to, etc… but it doesn't have to be that way! Penn Dental Family Practice prides itself on being accessible and available for students. If you're going to school in the city of Philadelphia, we have a location for you.

Both

of our

downtown locations

are just a short walk from the middle of University City, and all three of our locations are highly accessible by SEPTA. If you need a

college dentist

, look no further than Penn Dental Family Practice!
Taking care of your teeth can be easy, even when you're going to school. Follow these simple back to school dental tips and you'll remember your fall semester as the time you got the smile you wanted! Give us a call or set up an appointment so we can help you out at Penn Dental Family Practice.