Don't forget to take care of yourself!
If you're wondering how to choose a cosmetic dentist, then you've come to the right place!
Did you know that, according to a 2015 survey by the American Dental Association, one in four adults avoid smiling due to the condition of their mouth and teeth? On top of that, 23% of adults surveyed reported feeling embarrassment due to the condition of their mouth and teeth.
When you're happy with your smile, you tend to smile more. And many studies have shown that when you smile more, you have more positive emotions and health! People who smile tend to be perceived as more friendly and approachable. We don't think it's stretch to say that smiling benefits both your personal well-being and your relationships! But for most people, getting to a place where they feel comfortable smiling more is the first stepping-stone.
That's why we've crafted this ultimate cheat sheet on some of the best cosmetic dentistry services! Cosmetic dentistry is dedicated to improving people's lives by beautifying their smile. Your local cosmetic dentist at Penn Dental Family Practice can help you reach your goals using any number of cosmetic treatments:
Whitening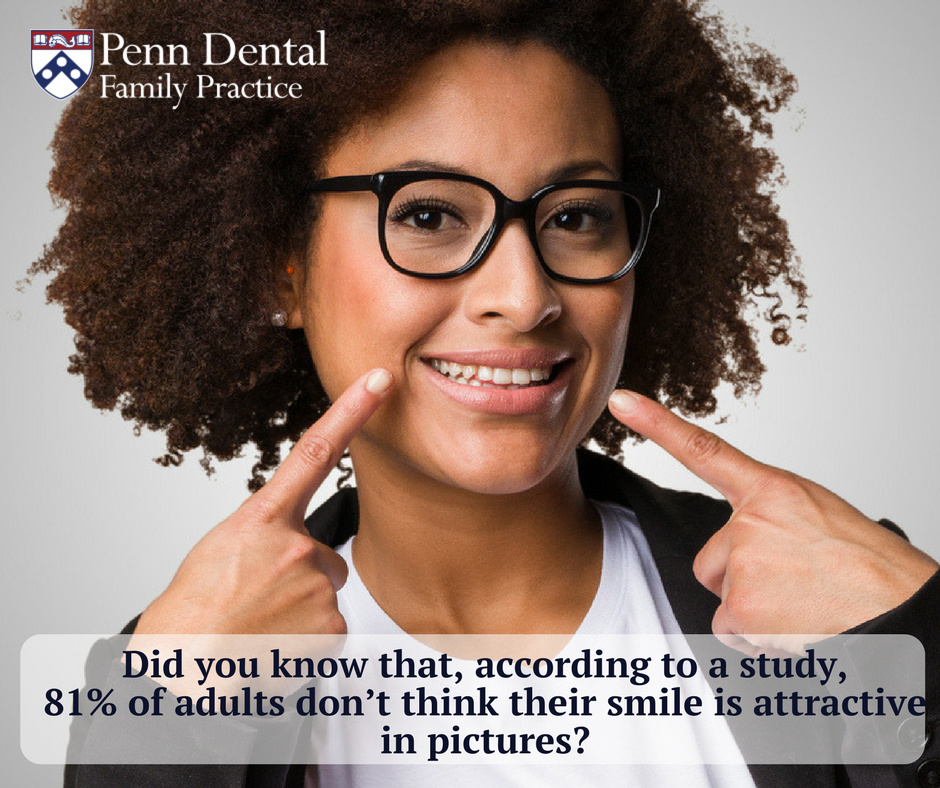 You can whiten your smile 5 to 8 shades lighter (on a scale of 16) using professional whitening systems. At Penn Dental Family Practice, you have the option of an in-office procedure or take-home trays. Depending on the kind of staining on your teeth, you might be recommended one or the other.
The main difference between the two is that in-office, whitening happens faster and you don't have to apply it yourself. You'll still get take-home trays to continue touching up your teeth at home. Whitening is a very popular procedure because it's like an "instant upgrade" to your smile that can dramatically improve your personal appearance.

Invisalign
Oftentimes people don't think of orthodontics as a form of cosmetic dentistry, but it is Crooked teeth, a bad bite, or overcrowding can all contribute to a less-than-perfect smile. These alignment issues are very common, even among adults. Invisalign has been hailed as a top orthodontics treatment for its comfort and more aesthetic appearance. Invisalign consists of a custom-fit, clear aligner system that you can put in your mouth and remove at will. It's one of our top cosmetic treatments at PDFP.
Traditional braces
As popular as Invisalign is, it's not for everyone. Other people prefer a traditional approach to correcting alignment problems and crooked teeth. Traditional braces technology has advanced considerably in the past 20 years; metal braces are not what they once were! Braces are a good option for people who prefer to keep their costs down and don't mind the metal. Most important, by the end of treatment you'll have the smile you've always wanted!
Crowns & Other Restorative Treatments
Another area addressed in cosmetic dentistry is restorative treatment. If you get a cavity or fracture that involves half the width of the tooth or more, it should be covered by a crown. A crown protects your tooth from further damage and gives your tooth a beautiful, rounded look.
If you've lost teeth, we highly recommend getting dental implants. The implant is an incredible technology that fuses the false tooth to an implant in your jaw, stimulating further bone growth. Dental implants are as near-permanent of a solution you'll ever find to the problem of missing teeth, not to mention that they're the only replacement solution that actively improves your oral health.
How To Start Getting the Best Cosmetic Dentistry, Now
Cosmetic dentistry starts with you. Each patient's journey will be unique, as every mouth has different needs. At your consultation with a top rated cosmetic dentist at Penn Dental Family Practice, you'll get the opportunity to share your concerns about how your teeth look. We'll examine your mouth and propose a plan that will meet your specific needs.
Because we have multiple specialists under the same roof, you'll almost always be able to get all of your cosmetic dentistry done in the same building. We hope that this helps you to achieve your goals faster and more effectively!
To schedule your first cosmetic dentistry consultation at PDFP, please give us a call at 215-898-7337.